The Open House
(2018)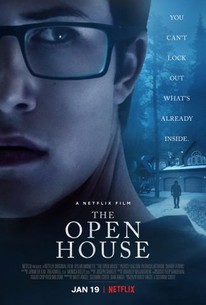 Movie Info
Following a tragedy, a mother and her teen son move to a relative's vacant vacation home, where eerie and unexplained forces conspire against them.
News & Interviews for The Open House
Critic Reviews for The Open House
Audience Reviews for The Open House
At first, watching this flick progress, it came across to me as if this was what it would be if The Devil's Candy was a boring movie without the same intensity, excellent plotting, devil-worshiping and awesome heavy metal music. Previous owner of a house wants to move in back into his old house by pushing the new family out, forcibly if he has to. I mean I still feel that this really is a boring version of The Devil's Candy, but I think the movie has a more disturbing undercurrent going on than what you would normally think about when finishing this. I've always felt that some of the best horror comes from stuff that people could believe might happen to them. As much as I enjoy old 80s slashers, there's no way that people would believe that an unkillable monster will hunt them down and kill them. Or aliens. Or ghosts. Or demons. I could go on and on. I'm not saying that a horror movie being something that could actually happen to me equals a quality movie, but it's always more probable and scarier to think that it could. Having said all that, I find something that Logan said about open houses interesting and that is the fact that you're handing over your keys to a stranger to allow other strangers in your house and you don't know what those people do or, really, if they ever leave after the open house is done. This isn't so much an issue where I live, where it's impossible to hide somewhere inside my house, there's no secret closets, basements or cellars to contend with. If someone is inside the house, we're gonna know about it. But that's not always the case in the U.S, where houses are just designed differently. Like that idea that someone might be inside your house, as a result of one of these open houses, without you even know is enough to send chills up some people's spines. Having said all of that, this basic concept isn't enough to save this movie from complete and utter boredom. It's just not a particularly interesting movie past exploring the idea of intruders lurking in your house for, seemingly, weeks waiting for the perfect chance to strike. Set-up is simple. Logan and his mom are forced to move to his aunt's luxurious house after a personal tragedy forces them out of their house. I think the major problem with this movie is that, and this might sound weird knowing that I value character development, is the fact that you spend most of your time with these unlikable characters and dealing with their own personal issues as they try to adjust to their new lot in life. Naomi has to find a job to support her son, though she's struggling to do so. She's stressed out, depressed, etc, etc, etc. Logan, who saw his dad die, is forced out of school and taken to this new place without asking if he was ok. His mother didn't even ask him how he was doing after everything that went down, never made sure to check if he was ok. So that's what we have to deal with for a huge chunk of this movie and, while it isn't bad, it just isn't that interesting to begin with. You don't really sympathize with either of them, cause Logan is kind of a dick to Chris, who's being friendly to his mom and, in general, just being a bit of a turd. While Naomi comes across as unstable when she accuses Logan of playing pranks on her that are causing her to stress out and throwing a photo of them (with the dad) in the trash. Like this was a bit of a stretch, honestly. Cause there's an open house literally every Sunday. Shouldn't it stand to reason that MAYBE one of the many people who come in the house on a Sunday did the shit that Naomi is accusing Logan of doing? That's the most logical explanation to me. Not to Naomi apparently. So, yea, these characters are largely insufferable throughout the movie and the 'horror' doesn't really even kick until about halfway through. I honestly would have preferred if this movie was a straight-up supernatural movie where the mother-son dynamic is explored through Logan and Naomi being forced to reconnect as a result of what they're going through. I suppose you could say that that's what the movie tried to do anyway. But, if that's what they were going for, then they really just failed miserably. Again, Naomi and Logan are just insufferable so, in the long run, you don't end up caring one bit about what happens to them. It does get better the closer you get to the climax, but by that point it's really too late. There's some idiocy you have to deal with here, as well, not including Naomi's reactions to what's happening in the house. There's a scene where someone, it seems, has broken into the house. Set the table, lit some candles and set a phone on a platform. When they arrive, the phone rings but nobody talks back. Naomi and Logan call the cops who proceed to tell them, after they come over, that it was probably just bored kids playing pranks. Because that makes perfect sense in the world we live in. Some bored teens broke into a house, SET-UP THE TABLE FOR DINNER, LIT CANDLES and put a phone on a platform...to play a prank. I'm sorry, but unless they're genius, teens are not that sophisticated to play a prank like that. And, if teens in question are geniuses, then they're probably busy with important shit. The sad thing is that SOME cops do shit like this, they brush off real concerns and then when an actual tragedy happens they're like 'we couldn't have done anything, it was unexpected'. That's, sadly, been the fate of many abused women in the past and, realistically speaking, the cops are the real villains here. They didn't do their job effectively and, surprise surprise, it ended in another tragedy. The acting is fine. Dylan Minnette is acceptable, but he literally always has the same expression on his face. He has no depth at all and he plays the same types of characters. Piercey Dalton, who plays Naomi, is good enough. She's probably the best of everyone here, but it's not like that's really saying much. The movie just sort of coasts by on its concept and the concept wasn't even that interesting to begin with. There's a few jump scares, but there's nothing really all that memorable or that you haven't seen done better in The Conjuring, as an example, even though this isn't a supernatural movie. I don't know what else to say. The third act is decent, but it gets a little ugly at times, as in it just didn't fit with the rest of the movie, but it's about as "good" as this movie was ever gonna get. I will say that I did like the ending not giving any fucks and ***SPOILERS*** killing everybody off. Again, I think it plays into something that's real. So that makes the ending a bit of a downer, but I didn't mind it at all. This movie is watchable, at best, but that doesn't mean that it's any good. There's no real reason you should watch this when a conceptually similar and vastly superior movie, in The Devil's Candy, is still available on Netflix. Choose that instead. The Devil's Candy eats movies like this for breakfast.
Jesse Ortega
Super Reviewer
Sometimes a mystery can be what makes a movie. Sometimes, it feels like flagrant laziness. The Open House is the latter. The acting is fine, and the characters constantly and blatantly saying things like "Isn't it crazy how there could be a person hiding in your house right now?" might get in your head some, but The Open House is a far cry from any sort of actual success.
We're in the risky month of January once again and when it comes to watching new releases in entertainment, it's usually a coin toss as to whether or not a movie will actually be good. Ever since Netflix began to release original films, I've found myself holding out hope that fantastic independent films will slowly begin to make their way onto streaming services, instead of failing at the box office. Well, if one of Netflix's most recent films in The Open House is any indication, then we're still a very long way from something like that ever happening. Not only is this one of the most non-scary horror films that I've seen in recent memory, but it's also one of the worst films in general that I've seen in recent memory. People talk about how bad a movie is, but sometimes it just has to be seen to be believed. Now streaming, here's why I think you should check this movie out just to see how bad it truly is. Starring Dylan Minnette and Piercey Dalton star in The Open House, a film that (after a tragic event) follows them as they work on selling their home. Shacking up in a family member's house up in the mountains while they set up open houses, creepy things begin to happen to them. What's disturbing them? Well, without giving anything away, literally nothing is ever explained to you throughout the movie. It's almost a joke that this film was even made because not a single portion of this movie is terrifying and not a single plot point is interesting enough to hold your attention for two seconds. Look, I've said this before, but it's really not necessary to make a horror movie to scare the hell out of someone because it's all about atmosphere and visuals. When the It hit theatres last year, it wasn't the kind of film that needed to throw scares in your face, because it focussed more on its characters and made you just care about watching these kids hang out and hope they all make it out of the film alive. So, when a movie like The Open House manages to simultaneously provide incredibly weak characters, laughably cheap set pieces, jump scares that you can see coming over ten minutes before they happen (and that's not even an exaggeration), and a conclusion that's pretty much a slap in the face to every viewer for even watching the movie, then I have nothing good to say about it. From the small films that Dylan Minnette has appeared in, to his larger role in last year's new series 13 Reasons Why, I've always enjoyed watching his performances, but even he was incredibly one-note here. Every time something would happen in their house that was supposed to trigger chills from the audience, it felt forced and quite honestly, every single set piece was a re-creation of another horror film. Yes, it's practically impossible to not draw inspiration from other movies these days, but The Open House just felt uninspired from start to finish. In the end, I found myself chuckling if a character died, laughing hysterically at each jump scare, rolling my eyes when a new plot point arises that you already know the outcome to, or just plain being bored at the bland imagery. The funny thing is that this movie has an ending that I didn't exactly see coming, but the way it ends actually makes the movie worse than it already is. It's still very early in the year, but I'll be shocked if this doesn't stay my most hated movie of this year. The Open House is truly an awful film and unless you get a kick out of terrible horror films, then I would advise that you steer clear of this one.
The Open House Quotes
There are no approved quotes yet for this movie.