The Order
(2003)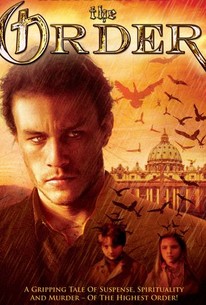 Movie Info
For centuries a secret Order has existed within the Church. Following a series of unexplained murders, renegade priest Father Alex Bernier begins an investigation that hurls him into a maelstrom of unimaginable evil, murder and the knowledge that there is a fate worse than death. Father Bernier's search takes him to The Sin Eater--a key figure in this mysterious and ancient Order. The immortal Sin Eater's role is nothing less than playing God on earth by absolving the unforgivable of their sins outside the Church, allowing greater evil to go unpunished. Burdened by centuries of evil, the Sin Eater craves the luxury of death. But who will eat his sins and grant eternal peace? Who will carry on his dark tradition and continue the work of the Order? As the young priest uncovers the answers and pursues these paragons of evil, he fights to save his own soul and that of troubled artist Mara, the woman he loves.
Critic Reviews for The Order
Audience Reviews for The Order
½
o dear what a mess of a horror movie!!
Brian De Guelle
Super Reviewer
½
It started by reminding me of the classic horrors of the 70's such as Don't Look Now and The Exorcist. The visual style and slow build up was all very nice. The build up continued for another hour before landing flat on its face. There seems to be so much talking and explanation that perhaps this would have worked better as a book. Instead it has some interesting ideas but no horror, thrills or anything vaguely interesting. Performances are good, though it's hard to tell with such dull characters. The film just about makes sense with evil demons, hooded men and...actually I'm not so sure it does all make sense. The most fun I had was spotting the eerie premonitions of Ledger's casting in Dark Knight such as a the light through a stain-glass window giving him green hair, and a scene where he is attacked by bats. OMG!
Luke Baldock
Super Reviewer
As the one half conjures up excruciating boredom and the other breathless excitement, the term 'religious thriller' is an oxymoron. I wasn't expecting much from this and it didn't disappoint, but I'm surprised how quickly it is fading from my memory, considering I only watched it last night. It's not awful, just mediocre. The cast is fine but the story stinks. Demonic children pop up for no other reason than to create a bit of cheap atmosphere, and to provide an excuse for some CGI effects.
The Order Quotes
There are no approved quotes yet for this movie.