The Outlaw
(1943)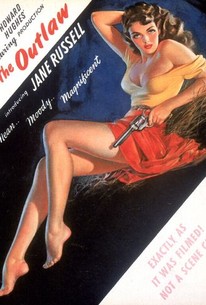 Movie Info
This off-beat western is best remembered for the scandal surrounding its release, most of it having to do with the supposedly erotic scenes involving Jane Russell who plays the busty siren who steals the heart of Billy the Kid (Jack Buetel). The highly fictionalized story centers on the rivalrous, tentative friendships between the Kid, Doc Holiday (Walter Huston) and Pat Garrett (Mitchell Thomas). Many of the most racy scenes were cut out to appease the censors, therefore different versions are available with the original 117 minute cut being the most difficult to find.
Critic Reviews for The Outlaw
Audience Reviews for The Outlaw
There's Billy the Kid in this story. Doc Holiday's in it too. Think they'll duke it out or maybe a lowdown showdown shootout between two infamous fast guns? That anticipation is the given reason for you hanging around, the justification. But the show is really about Russell's, umm, well, perhaps I've already said it. Howard Hughes does a okay Western, but first let's get 'em in the seats, yah, and that's up to Russell. I don't think ol'Howard was all that crazy.
Kevin M. Williams
Super Reviewer
½
Infamous western is really not very good with several obviously rear projection scenes really taking you out of the movie. Fictional story of Billy the Kid is troubled in many places perhaps the biggest is Buetel a blank faced black hole at the center of the film. Even the usually great Huston and Thomas Mitchell give weak hammy performances and Jane Russell while extremely lush and fresh had not yet learned how to act in front of the camera but does exude presence and charisma missing from the rest of the film. It's overlong to boot!
Magnifisent sizzling Western with one of the worlds most beautiful screen sirens ever to grace the limelight.
Barry Lappin
Super Reviewer
The Outlaw Quotes
There are no approved quotes yet for this movie.