The Package
(2018)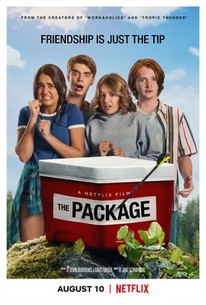 Movie Info
When four teens go on a spring break camping trip, an unfortunate accident sets off a race against time to save their friend's most prized possession.
News & Interviews for The Package
Critic Reviews for The Package
Audience Reviews for The Package
I've never been much of an outdoorsy type of person. It just doesn't seem like my idea of a good time. Not that a good time can't be had. But I've just never been that into it. Maybe it's all the horror movies that I've seen, who knows? Though, of course, I'm smart enough to separate fact from fiction. What I do like, however, is the idea having some sort of cabin or lake house that's close enough to civilization but, somewhat, still isolated from everything. I think it'd be cool to just get a group of friends together and just spend a long weekend at the lake house. That sounds like my idea of fun, but spending time in the woods, in tents, uncomfortable, just no, not at all. Ain't nobody got time for that. I don't even know why I bring this up, I guess it's just to say that I probably wouldn't ever find myself in the situation the kids in this movie found themselves in. Having to rush their friend's dismembered penis to the hospital after he accidentally cuts it off and the wrong cooler (that the rest of the group think the penis is in) is sent with him when he's medevaced to the nearest hospital. So, yes, essentially, this movie is one long dick joke. Dick jokes, some might say, are the lowest form of comedy imaginable. Either that or fart jokes. I think sex jokes, in my opinion, can be a little more sophisticated than the aforementioned topics, hence I don't put those here. But, let's be honest, it's gonna take some sort of comedy miracle for dick and fart jokes to be sophisticated. I don't know if it can be pulled off. And, of course, this movie didn't. Though, if I am being honest, it never tried to be anything more than what it was, so I can't fault them for that in the slightest. If you were to have told me, prior to watching this, that this was essentially a one-joke movie with all of the physical comedy and sight gags being centered around Jeremy's dick, I probably would have told you that I'd end up hating that movie. Or, at the very least, not liking it. Well color you surprised because, quite honestly, I had fun watching this movie. Like I said, there's nothing in the least bit sophisticated about this movie's concept. But, in my opinion, good raunchy comedies are hard to pull off because you either have to fully commit to your concept of throwing everything under the sun out there in terms of your jokes or you just end up making dick and fart jokes for the sake of it and it just doesn't end up working in the slightest. This movie is the former, because, whether you feel this is a flaw or not, the movie completely embraces the absurdity of its own concept and, quite frankly, they do far more with it than one would reasonably expect. In theory, at least when I look outside the box at this, this is a movie that should not work. Again, almost all of the jokes are centered around Jeremy's dismembered dick. There's obviously other jokes surrounding the other characters, but 80% of the material is centered around Jeremy's penis and the insane journey these teens go through in order to deliver the penis to the hospital Jeremy is at before time runs up and he has to spend the rest of his life without a penis. And, really, if you're a man, what kind of life is that? Pull the plug on me immediately. But, again, the point of this all is to say that this movie should not work and yet, for one inexplicable reason or another, it does. Well, perhaps I shouldn't say inexplicable. I think first thing this first is the fact that the movie fully embraces the silliness of its concept and it continually attempts to find new ways to up the ante. It's not like they're always successful at topping what came before, but the movie is consistently entertaining because of it. You don't know what Jeremy's dick is gonna go through next. Secondly, the movie has a really energetic tone and pace, it's a movie that's in constant movement so, as far as an experience, this movie just flies by, as it should. Thirdly, the cast, full of young unknown actors (to me at least), are a blast to watch, their interplay and their interactions are quite a lot of fun to witness. There's clearly a lot of young talent on display here and, to me, one of the best thing the movie does is to let these five loose. Not saying that this is the best cast this side of Little Miss Sunshine, but they're all very good and, once again, a large part of why the movie works as well as it did. The movie obviously isn't perfect, I just felt that there was something missing. The characters are solid enough and likable, but there's not really much to them. Sean has a crush on Becky (Jeremy's sister, which leads to one of the running gags in the film which is Jeremy wanting Sean to fuck his sister), so there's the typical romance since *GASP* Becky broke up with her douche boyfriend prior to the trip, so Sean finally has his shot. Donnie and Sarah are the bickering exes that, once again, leads to a predictable ending. Everything surrounding the dick's journey is more exciting than the characters who are carrying out this mission. But, once more, I don't mean to say that the characters are bad, it's just that there's not much to them than what the movie gives you right at the start. It's also not a hilarious movie, by any stretch of the imagination, but it is consistently funny and entertaining. Few flaws aside, I definitely enjoyed this quite a bit. It's not gonna be everyone's cup of tea due to it, essentially, being one long dick joke (as I mentioned at the beginning of the review). But I have to give the movie points for fully embracing the absurdity and silliness of its concept and trying everything they could to make you laugh. In my case, it worked, but it might not in yours and that's fine. Good dialogue, satisfyingly silly concept and a great cast make this a more than solid movie.
Jesse Ortega
Super Reviewer
The Package Quotes
There are no approved quotes yet for this movie.