The Pact
(2012)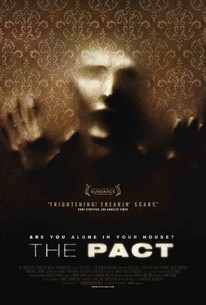 Movie Info
After their mother passes away, sisters Nicole (Bruckner) and Annie (Lotz) reluctantly return to their childhood home to pay their last respects. While staying overnight in the house, the sisters sense a mysterious presence in their midst: noises startling them in the night, objects moving about, a fallen picture of an unknown woman posed next to their mother. Annie begins experiencing a series of intense and disturbing dreams visions that lead her to uncover something terrible about her mothers past that is finally revealing itself. -- (C) IFC
News & Interviews for The Pact
Critic Reviews for The Pact
Audience Reviews for The Pact
The mystery is compelling and holds the story together in an efficient way before the last twenty minutes (which are very tense), even though there is no pact to be seen (can a movie title get more generic and lazier than this?) and the direction is so annoyingly full of clichés.
Carlos Magalhães
Super Reviewer
½
3 3/4's ..I liked this movie. It was pretty good, right up until the last five seconds making absolutely no sense what-so-ever. Another nightmare? I don't know. But hey, 99% of creepy horror movies do this with their endings. Now, what I can't figure out is why this movie is called "The Pact." I could make a guess, but that would be pure conjecture from me. Quite honestly, there are plenty of unanswered questions, but I think we can blame editing for that. All in all, though, it gets pretty good marks from me for creepiness factor...
Cynthia S.
Super Reviewer
[img]http://images.rottentomatoes.com/images/user/icons/icon14.gif[/img] The Pact feels as if it's been constructed from an infinite number of inspirations stretching from classic ghost story horror cinema to the recent wave of found footage films but at the same time because of such great execution you could never actually call it generic. The story is about a woman who moves back to her childhood home to attend her mothers funeral, while she's there she get's thrown around the house by a paranormal presence and tries to find out whether or not it's the spirit of her mother. It get's more complicated as it progresses, to the point where it unfortunately becomes a bit non sensical even despite the fact there's a general lack of well concieved and intricate plotting. But after a fantastic set up and the developent of a creepy atmosphere it runs out of fresh ideas and chooses to throw out the typical cliche's aimlessly, and even adds into the mix the incredibly annoying "final jump", before the credits start to roll and doesn't end the way it should. On the plus side the acting is surpirisingly decent for a low budgeter and Nicholas McCarthy's stylistic direction and haunting visuals are genuinely creepy to the point where I wanted them to be terrifying rather than eery. I honestly wouldn't call it a scary horror film by a stretch, it's a lot creepier than the recent studio backed horror flicks, even if it doesn't explore it's mildly intriguing premise enough. Alhough nothing remarkable certainly worth a look.
Directors Cat
Super Reviewer
The Pact Quotes
| | |
| --- | --- |
| Stevie: | You've gotta go back inside of the house. |
| | |
| --- | --- |
| Creek: | You live sixteen years in this house... you have no memory of this room? |