The Passion of Anna (En Passion)
(1970)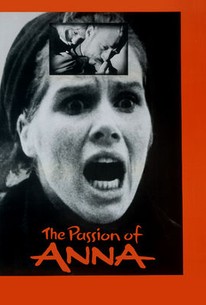 Movie Info
Liv Ullmann plays the widowed, crippled Anna Fromm, who while traveling on a remote island calls upon reclusive ex-convict Andreas (Max von Sydow) in order to use his telephone. After Anna leaves, Andreas discovers she's left her purse behind; he opens it, hoping to find some identification. A letter in the purse details Anna's unhappy marriage and the depths of her loneliness. Eventually, Anna moves in with Andreas, who has become more closely acquainted with her through the intervention of Anna's friends Ellis and Evan Vergerus (Bibi Andersson and Erland Josephson). But tensions and conflicts ensue, and threaten to destroy the burgeoning relationship between Anna and Andreas. ~ Hal Erickson, Rovi
Critic Reviews for The Passion of Anna (En Passion)
Audience Reviews for The Passion of Anna (En Passion)
If you make it past a very dull first 50 mins you should enjoy it. If it remained at the same pace as the first fifty-minutes this would've been more toward the 2 star range. There will be one scene in this first half that'll leave you shaken up, the rest will leave you yawning. After this the film builds up as you see Anna's darker side. She was always a weird one but we never saw the sinister version of her. Bergman style is very unique even using clips from past films of his and interviewing the actors for character analysis mid movie.
Daniel Dolgin
Super Reviewer
The Passion of Anna, which takes place on a remote island, is an extremely complex tale about four people trying to fill the voids left by disillusion and past tragedies.
½
Bergman is the master when it comes to dealing with the intricacies of love and relationships, this film is extraordinary in the way it slowly gives us an insight into these four lost souls as the struggle to make sense of life and try to find their way which isn't easy, the bleak landscape, the desolation, the sparse dialogue, Liv Ullemans face in close up all come together to produce an explosive emotional roller-coaster with an inevitable outcome, the violence of the characters emotions spill over into the environment in the form of an unexplained killer of dumb animals. Where are the contemporary films to match such genius, where are the voices to guide us through the fog?
Cassandra Maples
Super Reviewer
The Passion of Anna (En Passion) Quotes
There are no approved quotes yet for this movie.