The Patience Stone
(2013)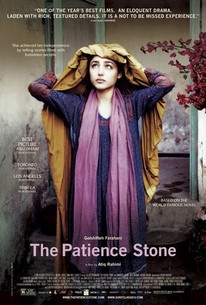 TOMATOMETER
AUDIENCE SCORE
Critic Consensus: It may prove frustratingly slow for some viewers, but more contemplative filmgoers will find themselves rewarded by The Patience Stone's quietly fierce storytelling, as well as a searing starring turn from Golshifteh Farahani.
The Patience Stone Photos
Movie Info
Author Atiq Rahimi's adapts his own bestselling novel about a Muslim woman whose paralyzed husband unconsciously assumes the role of a magical force, which shields her from the sorrows of life in her war-torn village. Her unnamed Middle Eastern country caught up in an insurrection, the loyal, thirtysomething wife faithfully sits watch over her vegetative husband, who has been all but forgotten by his brothers and fellow Jihadists. Over time, she gathers the courage to tell her husband all of the things she had remained silent about during their 10 years of marriage. Throughout the course of these missives, she speaks frankly of the disappointments, sorrows, and sacrifices that have made her life so difficult throughout the previous decade. Only weeks later, when the isolated wife enters into a relationship with a young soldier, does she begin to reveal the woman who she had kept locked up deep inside ever since the day she was married. ~ Jason Buchanan, Rovi
News & Interviews for The Patience Stone
Critic Reviews for The Patience Stone
Audience Reviews for The Patience Stone
½
In an unnamed Middle Eastern country, seemingly in the midst of a civil war, a young woman (Farahani) tends to her older husband who is rendered unconscious from a bullet wound. Fearing for the safety of her two young children, she leaves them in the care of her Aunt (Burgan) who tells the woman about the titular legend, a stone that absorbs one's troubles when spoken to. The woman sees her prone husband's body as her own patience stone and begins to reveal truths left unspoken during their seemingly loveless marriage. Feminism isn't a movement we readily equate with the Middle East but there's an important movement in the region's film output that's beginning to question the long accepted treatment of women as second class citizens. Earlier this year we saw the excellent and revolutionary Saudi Arabian film Wadjda, a film remarkable for being that nation's first ever feature film, and directed by a female no less, albeit one who had to remain hidden in the back of a van throughout filming for her safety. Now we have the Iranian/Afghani film The Patience Stone, which could be all the more remarkable, given it comes from a male film-maker yet peddles a strand of feminism that would cause a stir in many European countries, let alone a conservative Islamic one. Most married women joke that their husband's never listen to a word they say and the protagonist of Atiq Rahimi's adaptation of his own novel is no different. However, she's been forbidden from speaking her true mind when her husband was able to hear her words but now, as he lays in a vegetative state, she opens up about her desire to be loved and reveals her sexual fantasies. The language is shockingly graphic for a film from the Middle East and the frank discussion of the region's attitude to rape will disturb anyone from a more enlightened land. Discovered by two soldiers, the woman pretends to be a prostitute, believing it may earn her a beating but will save her from a rape, as no Muslim man would touch a prostitute. Her plan backfires sadly when one of the men returns alone later. Despite an adapted script from the prolific and acclaimed screenwriter Jean-Claude Carriére, The Patience Stone is mostly a one-hander monologue that might work well as a stage production but translates poorly to screen. Luc Besson's regular cinematographer Thierry Arbogast is wasted, given little to do but frame a single room for most of the film. The excellent composer Max Richter provides a minimalist score. One suspects these talents were attracted by the film's revolutionary zeal, as will most of its viewers. As someone who doesn't care for films that deliver their messages in such a crude manner, I can't say I admire The Patience Stone as a film, but I do appreciate what it represents. (Review by Eric Hillis)
The Movie Waffler
Super Reviewer
A beautiful film about a young woman in a country torn by war, caring for her paralyzed husband, who was wounded in battle. When praying fails to revive him, she resorts to telling him all her secrets. It's almost a long monologue, but the pace, Golshifteh Farahani's beautiful face and the insight in a conservative culture make it an intriguing movie.
The Patience Stone Quotes
There are no approved quotes yet for this movie.