The People I've Slept With
(2010)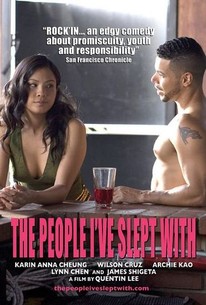 The People I've Slept With Photos
Movie Info
The People I've Slept With - a promiscuous woman who finds herself with an unplanned pregnancy and needs to figure out who the baby daddy is...NOW. -- (C) Official Site
Critic Reviews for The People I've Slept With
Audience Reviews for The People I've Slept With
½
A "sexually liberated" woman discovers she's pregnant and then gets to know the four potential fathers. While this movie may think of itself as edgy and modern, initially presenting sex with the insouciance that many post-sixties women and men demonstrate, traditional family values eventually win the day as marriage is the principal dramatic question throughout the film. What the film becomes is rooted in the very mores its characters disavow, and I think it does so unconsciously, as demonstrated by the film's penultimate lines - still embracing "independence" despite its traditional messages. Generically, the film is supposed to be a sex comedy, but it neither titillates nor does it deliver many laughs - maybe a couple chuckles. I liked Karin Anna Cheung; she's charming and pretty, and though some of her lines sound amateurish, there are also quite a few natural moments especially when she is paired with Wison Cruz, who plays his cliched character like a cliche one can believe in. Overall, The People I've Slept With would have been a good film had it been what it intended to be.
Jim Hunter
Super Reviewer
I found this movie absolutely delightful! Funny..Sweet..Witty. Makes one wonder why such a low rating? It was very well done. Really good actors. I really enjoyed this!!
Cynthia S.
Super Reviewer
½
Not too bad a flick to watch in showing the price to be paid for being promiscuous. A young woman takes a stand in life and decides on what's really important in deciding how the rest of her life should be spent. After finding out that her ways is bringing in another person into her life she has to choose out of the list of partners she has had relations with...who is the father? Along for the ride is her best friend that has hos own hang ups. this is a very light comedy with lessons to be learned too!
Fascade Fiveoneeight
Super Reviewer
The People I've Slept With Quotes
There are no approved quotes yet for this movie.