The People vs. George Lucas
(2011)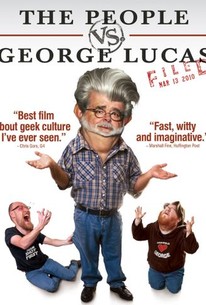 The People vs. George Lucas Photos
Movie Info
The passion the original Star Wars trilogy inspires in its fans is unparalleled; but when it comes to George Lucas himself-one of the most passionately debated filmmakers of all time-many have found their ardor has cooled into a complicated love-hate relationship. This hilarious, heartfelt documentary delves deep into Lucas's cultural legacy, asking all the tough questions. Has Lucas betrayed his masterwork? Should he have left the original trilogy alone? Will he ever redeem himself in their eyes, and more importantly, does he have any obligation to do so? Combining key testimonies from Gary Kurtz (producer of American Graffiti, Star Wars and The Empire Strikes Back), Dave Prowse (a.k.a. Darth Vader), Neil Gaiman (The Sandman, American Gods) and Francis Ford Coppola (The Godfather Trilogy, Apocalypse Now), and fan footage from around the globe that includes interviews, stop-motion animation, Super 8 action figure films and puppet rants, The People Vs. George Lucas takes a hard look at the man behind the most popular franchise in film history and asks: What the hell happened? (USA/UK, 2010) --(c)Landmark
Critic Reviews for The People vs. George Lucas
Audience Reviews for The People vs. George Lucas
This is THE documentary film any Star Wars fan would want to watch if they have ever pondered whether the big George Lucas has been correct in his tinkering. Its not just the constant fiddling that is questioned though, the much talked about prequels are also questioned along with the way the big GL has changed as his fame and fortune has grown since 1977. To put it bluntly this documentary is brilliant stuff and NOT just a GL bashing exercise for fanboys I must stress. This is a very well made argument against the big GL for his tinkering and decisions that are covered by fans from all other the world. Not only fans I might add but big name stars such as Simon Pegg and director Francis Ford Coppola along with others from the media and effects world, all add their views. Even the last [i]Indiana Jones[/i] fiasco gets a once over as fans despaired from the mighty fedora wearing hero's humiliation. From watching this film you do see (with much video evidence) that Lucas has indeed changed. A man who was once proud to fight the establishment has now become the establishment. A massive money making machine with yes men/women at his beck and call and no other input but his own. Its a shame to see but very evident that the story of how Anakin became corrupted by the dark side in the Star Wars franchise is in fact the story of Lucas. Lucas became a dark lord as did Anakin and some say that the success of Star Wars destroyed Lucas as a film maker. This documentary is extremely interesting it must be said. You do discover many gems of information such as a letter from the PR department of LucasFilm stating that the original negatives of the classic trilogy were permanently altered when the SE editions were made!! Also ironically we find that Lucas himself testified before US Congress against the colourization of black and white films back in 88, stating that it would be even easier in the future for old negatives to be replaced by new versions. It would be a great loss and that history must not be rewritten! Jesus the hypocrisy. The main controversy of this film is the SE editions and why Lucas continues to play with his films when there's nothing wrong with them in the first place. The arguments are strong and could go on forever but it has to be said that at the end of the day the films belong to history now. The reason why Lucas wants to change the films is obviously because he is a different man from way back in 77. Of course he wants to change it, any director could change their old films when they look back on them because people change and look at things differently in time and with age. But in general people don't do that (hopefully) because they are products of their time, a moment in history that should not be altered. It would be very easy to spruce up old out of date movies and make them all flashy with modern effects (CGI), but of course then it wouldn't be the same original movie. Gary Kutz (Star Wars producer) points out that the films work because of their limitations, the lack of money, the use of basic effects and lack of high-tech gadgetry. These are all reasons why the original movies were so great and innovative, especially for the era. People had to be inventive and use their skills, the same could be said for so many classic films across all genres but you wouldn't dare go back and crowbar in CGI bits or replace whole sections or peoples performances. I think GL forgets about all the folk that made his dreams a reality when he hacks away. He created the idea, the story, but he didn't create all the effects, models, sets, costumes, weapons etc...There were many many people who contributed a lot of skill and hard work to create Lucas' vision. This is the main crux of the documentary and its very very well presented with lots of footage from the movies along with homages...not needless bashing. The originals have been released on DVD of course back in 06 but they were very poor copies plopped onto DVD with no love or attention. We still await good cleaned up versions like Ridley Scott did for 'Blade Runner' or Spielberg with 'E.T.' or even Gilliam with 'Brazil'. Of course there are plenty of Star Wars fans that voice their opinions which some won't agree with, its an argument that both sides will never feel satisfied with but at the end of day everyone still just about respects and loves Lucas for his visual opus. They just wish he would leave it be.
Phil Hubbs
Super Reviewer
Interesting and must see documentary for Star Wars fans that feel that George Lucas destroyed his masterwork by re editing his films and dumbing them down. This film looks at the cultural impact of Star Wars, the legacy it has created, the infamous prequels that don't hold a candle to the originals. I grew a diehard Star Wars fan, and I remember when Phantom Menace came out, I was 14 at the time. I thought it was a decent film, but it didn't have that spark that the originals had. Also with the tweaked special editions, I felt it ruined the original experience of watching the original Star Wars trilogy, and made me ask the question, why fix something when it
Theres a strong sense of romanticism that echoes in this documentary. It proves its point from many of interviews but goes to a point of overkill with this as well.
The People vs. George Lucas Quotes
There are no approved quotes yet for this movie.