The Perfect Crime (El Crimen Perfecto)(Crimen ferpecto)
(2005)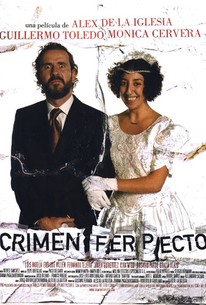 The Perfect Crime (El Crimen Perfecto)(Crimen ferpecto) Photos
Movie Info
A playboy has the tables turned on him when he finds himself being used as a plaything by an undesirable woman in this black comedy from Spain. Rafael (Guillermo Toledo) is a self-styled ladies' man working at an upscale department store in Madrid. Rafael thinks of himself as suave and sophisticated, and he has two goals -- to run the store's apparel department, and to seduce every woman he works with. Well, every woman except for one -- Lourdes (Monica Cervera), a homely sales clerk who obviously has a crush on Rafael, but is too nervous to talk to him. Rafael's primary rival for control of the clothing department is Don Antonio (Luis Varela), and Rafael becomes filled with rage when he learns that Don Antonio has been given the job he's worked so hard to attain. Rafael gets into an argument with Don Antonio after hearing the news, and in the midst of the quarrel Don Antonio drops dead. Rafael discovers to his horror that there was a witness to Don Antonio's sudden demise -- Lourdes, who is no longer acting quite so meek. Realizing she has Rafael in a tight spot, Lourdes informs him that in exchange for her silence and help disposing of the body, he must become her lover, and it isn't long before Rafael begins to buckle under the strain of serving as her sexual slave. El Crimen Perfecto (aka The Perfect Crime) was originally released under the punning title El Crimen Ferpecto (aka The Ferpect Crime).
Critic Reviews for The Perfect Crime (El Crimen Perfecto)(Crimen ferpecto)
Audience Reviews for The Perfect Crime (El Crimen Perfecto)(Crimen ferpecto)
Alex De la Iglesia is an expert connoisseur of the bizarrerie he likes to have in his films, and here it works perfectly. the ludicrous ending is the only big problem of this ultra hilarious noir comedy.
Pierluigi Puccini
Super Reviewer
½
[font=Century Gothic]"The Perfect Crime" starts with Rafael(Guillermo Toledo) living his ideal life as the head of the ladies wear department, having nightly affairs with members of his nubile staff. He is in a competition with Antonio(Luis Varela), of mens wear, to be the new floor manager but loses out on the final day. Not only that, but Antonio intends to fire his rival for openly berating a customer. But before that can happen, Rafael and Antonio scuffle and Rafael accidentally kills Antonio. Now, Rafael has two new problems: a possible eyewitness and what to do with the body?[/font] [font=Century Gothic][/font] [font=Century Gothic]"The Perfect Crime" is a very entertaining black satire that wittily comments on the materialistic, shallow culture that we live in without turning into a lecture. The events are seen through Rafael's eyes and narration.(The movie getting more surreal as it goes along might be a sign of Rafael starting to lose his mind.) He does not see much in Lourdes(Monica Cervera), but only because she is plain looking, unlike most of the women who work for him. However, she does have a few surprises in store... [/font] [font=Century Gothic][/font] [font=Century Gothic]And please tell me that is not an actual reality show...[/font]
Hilariously wacky black comedy about a department store salesman whose comfortable life is turned upside down after he is passed over for a promotion. A modern, hip sensibility is beautifully integrated with deeply serious events, in this thoroughly winning Spanish farce. Indeed his life spins so wildly out of control, the results are delightfully ridiculous. Actress Mónica Cervera is particularly effective as Lourdes, a co-worker he would rather have nothing to do with.
Mark Hobin
Super Reviewer
The Perfect Crime (El Crimen Perfecto)(Crimen ferpecto) Quotes
There are no approved quotes yet for this movie.