The Phantom Carriage
(1921)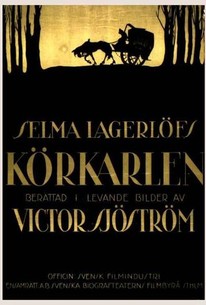 The Phantom Carriage Photos
Movie Info
David Holm (Victor Sjostrom) is the abusive husband who finds his wife (Hilda Borgstrom) has left him after he is released from prison. He vows vengeance for her abandonment in his hour of need. The couple is reunited in a Salvation Army mission where David convinces his estranged wife to reconcile their differences. Edith Larssen (Astrid Holm) aids in bringing the troubled couple together. A year later, David has regressed to his alcoholic ways and sees the messenger of death in a harrowing dream. He rushes to save his wife from suicide as she contemplate the murder of the couple's children in this implausible melodrama.
Critic Reviews for The Phantom Carriage
Audience Reviews for The Phantom Carriage
A journey to redemption that is poetic and eerie in equal measures. A silent masterpiece.
Pierluigi Puccini
Super Reviewer
beautiful and spooky, it's like a swedish variation on dickens' 'christmas carol' with a quite sophisticated flashback structure and up to four layers super imposition effects. director victor sjostrom also stars. best of all, it's in public domain and can be found on youtube and internet archive
Stella Dallas
Super Reviewer
½
Not really the journey of gothic horror that one expects, "The Phantom Carriage" is more like a bittersweet cousin to "A Christmas Carol" and "It's a Wonderful Life." Victor Sjostrom directs and stars in this 1921 silent, decades before his famed role in Ingmar Bergman's "Wild Strawberries." Sjostrom is David Holm, a down-and-out wastrel who has lost his family and carries tuberculosis. One New Year's Eve in a lonely graveyard, he tells a couple of seedy friends about the supernatural "cart of death" that eternally rolls around the world collecting souls. The cart is not driven by Death himself. Instead, it has a new, unlucky rider every year: the last person to die on New Year's Eve, the night before. And wouldn't you know? David dies himself, just before the clock strikes midnight. Of course the cart and its sickly horse arrive, ironically manned by the deceased friend who first lured David away from righteousness (a needless bit of confusion: the two look so much alike that I initially wondered if the driver was an aged David -- in fact, three characters look annoyingly similar as the story jumps around in time). David's spirit barters with his shadowy friend, but Death's rule of succession is firm. Meanwhile, a good-hearted Salvation Army nurse is on her deathbed, mysteriously asking for David. We don't understand why at first, and the script is quite modern in how it presents quizzical situations that aren't explained until later. Christopher Nolan probably loves this film. Most of the story is relayed through flashbacks. Sometimes, flashbacks within flashbacks. We learn that David alienated his wife and children through excessive drinking, and that they moved away while he was drying out in prison. And that he angrily sought his wife after being released, just to wreak revenge. But there is hope. Perhaps his ghostly companion can push him to drop his bitterness, much like other spirits revitalized poor Scrooge. "The Phantom Carriage" makes abundant use of double images, which is not a gimmick but the perfect way -- considering 1920's technology -- to depict ghosts walking among the living. An underwater scene is especially spooky. The cinematography has that archaic split between blue-tinted night scenes and brown-tinted interiors but, on the other hand, the acting is considerably more natural than the era's usual exaggerated mugging and gestures. The worst part of my own viewing experience was not Sjostrom's fault. I'm talking about the score. It was just one long, evolving drone, recorded by the contemporary duo KTL. The textures were interesting at first, but turned more and more emotionally deadening as the film progressed and changed moods. The growling soundscapes were powerful during scenes of desolation, but sadly inappropriate during more sentimental moments. Occasionally, the shapeless din faded into what sounded like someone banging nails into a metal bucket. But this was not enough. Please hire another composer for the next edition?
Eric Broome
Super Reviewer
The Phantom Carriage Quotes
There are no approved quotes yet for this movie.