The Phantom of the Opera at the Royal Albert Hall
(2011)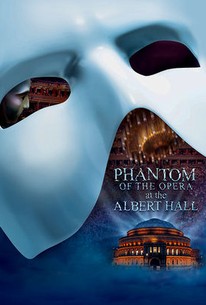 AUDIENCE SCORE
Critic Consensus: No consensus yet.
The Phantom of the Opera at the Royal Albert Hall Photos
Movie Info
NCM Fathom and Omniverse Vision are partnering to celebrate the 25th anniversary of Andrew Lloyd Webber's history-making The Phantom of the Opera with a fully staged musical celebration broadcast LIVE from London's Royal Albert Hall. Broadway's longest running show, seen by over 100 million people worldwide, comes to life on the big screen for a special event featuring over 200 cast members, orchestra musicians and luminaries involved with The Phantom of the Opera over the past 25 years. The Phantom of the Opera 25th Anniversary provides a once-in-a-lifetime opportunity for viewers to experience one of the most beloved musicals of all time from their local movie theater.
Critic Reviews for The Phantom of the Opera at the Royal Albert Hall
All Critics (1) | Fresh (1) | Rotten (0)
presumably the tightness of the Royal Albert Hall stage and the inability of the producers to modify the theater created technical problems that may have been imperfectly overcome.
Audience Reviews for The Phantom of the Opera at the Royal Albert Hall
Yes, people, let there be a celebration for twenty-five phant-astic years of keeping opera alive, essentially single-handedly. I don't know if people are still seeing operas, but I am quite sure that people are still seeing this opera, because this puppy has grossed over $5 billion, total, (Choke on that, James Cameron) and would have made more if it wasn't for them continuing to thrust it into the convenience of lazy bums' homes. Even when people do go see the play, it ends up recorded and on Blu-Ray that's actually clearer than the normal human eye's vision, and quite frankly, as fun as it would be to actually go to the theater, I'm too lazy to pay money to go see something that I could just watch on PBS, where people just tell me to pay them. People, I've got DVR, why should I go buy the DVD, especially seeing as how there will most likely be another, probably better version on the way? I joke, but they haven't adapted Andrew Lloyd Webber's play to the screen too often, or at least not compared to Gaston Leroux original novel, which has been done to death, then back to life and then back to death, so much so that Leroux isn't too likely to ironically haunt this opera as a phantom, saying, "Hey, doesn't anyone remember my book?" Yeah, I don't know about you guys, but going to see a massive musical production of near-unparalleled proportions sounds like it would be a little bit more fun than reading an early-1900s French Gothic novel, but hey, either way, you get a good story, and one that sure does make for a good show, or rather, three good renditions of a good combined into one good movie, or whatever in this world this play-on-film thing is. Still, as much as I enjoy some good old fashion theatrical entertainment, as seen on a newer format of entertainment, this presentation of a strong production is hardly faultless, as sure that the production itself is hardly faultless. Certainly, Gaston Leroux's original story concept is an intriguing one, and Andrew Lloyd Webber's stage vision of such a story is nothing short of a compelling success, and yet, I've always found something of a problem within Lloyd Webber's storytelling concept of musical exposition, broken up by the occasional piece of traditional dialogue, because although the production's musicality is consistently commendable and adequate in its serving as exposition, unevenness within the production's jumps between occasions of dialogue and massive chunks of music is not likely to have ever been truly dismissed from a performance, and is most definately present within this performance. This moderate degree of storytelling unevenness and, shoot, for that matter, the storytelling's often falling as too enslaved by the aimless fluidity of musical exposition taint the production with a somewhat heavy-handed pacing, if not a degree of repetition, exacerbated by the subjective direction of the cinematic presentation of the theatrical production. As much as I complain about the play's musical storytelling's getting rather repetitious, were you to join this production's true original audience in objectively observing the performance as spectacle, I'd imagine substance would go thinned out, and with it, storytelling faults, which may very well be thinned to the point of obscurity, but this film presentation's subjective focus upon about as much substance as spectacle emphasizes the dynamicity limitations of staged storytelling, thus repetition ensues, but not alone. Stage and film are two quite different storytelling formats whose going combined rarely proves to be all that consistently organic of a marriage, and while this film presentation of a staged production is surprisingly not quite as awkard as you would expect, it suffers from the usual problem of, well, staginess that isn't too intense in this production, but palpable enough to be disengagingly detrimental to the effectiveness of subjective atmosphere, particularly when the subjective storytelling breaks to really emphasize the presence of the objective viewers and other objective environmental aspects in a fashion that further damages the subjective viewpoint through which this film presents the story. Now, I'm not asking editor Nick Morris to leave the film to awkwardly omit a whole audience's applause or, Heaven forbid, a single audience member's cough, boo or exclamation of, "Tell some jokes!" (That doesn't ever happen during this production, but can you imagine?), but this film presentation's leaps between subjective storytelling and objective storytelling often prove to be disconcertingly uneven, and by the time we come to the end of the production, nearly 30 minutes prior to the presentation's conclusion, and find ourselves facing random additional, fan service-tastic post-show comments by Andrew Lloyd Webber himself and additional musical performances by veterans of the "Phantom of the Opera" stage, you'd be hard pressed to deny that this film's storytelling format marriage doesn't always work when it comes to keeping up subjective storytelling momentum. Don't get me wrong, touches such as these are nice and really add much color to the film presentation, as sure as they must have added an ocean of color the production, as seen by the audience that you yourself can see in this film, yet as far as substance flow is concerned, storytelling doesn't always gel, with other storytelling missteps being of no help, thus the production that is presented must be darn good and the presentation of the production must itself be darn good. Well, it should all but go without saying that the former criteria goes met, and as far as the latter criteria is concerned, while there are natural shortcomings and questionable directorial decisions, this film presentation does rewarding justice to the production, which in turn does rewarding justice to Andrew Lloyd Webber's original vision. Again, I'm not entirely animalistic about Andrew Lloyd Webber's musical touches as supplements to storytelling, feeling that they plague things with a degree of heavy-handedness and perhaps even a touch of repetition, but when it comes to straight musicality, Lloyd Webber's original musical concepts delivered on plenty of power, with dynamicity, sweep and depth that have been successfully brought to life time and again throughout 25 years of fine orchestral performances, including this one conducted by Anthony Inglis, whose band keeps fabulously faithful to Lloyd Webber's grand musical tastes with poignant inspiration and near-faultless skill. As for the singing behind which the music stands, the performers deliver on upstanding vocals that are rich with range and grip aesthetic investment firmly, and also turn into some genuinely charismatic performances, with Ramin Karimloo standing out by delivering on not only spirited vocals, but spirited emotional range that bonds with the singing seamlessly and leaves you to go gripped by both striking vocal skill and convincing bursts of emotion, married with haunting charisma, that prove to be enough to sell you on the layered depth, engrossing mystery and overall essence of the titular iconic Phantom character as you sit in the audience, alone, and with the subjective camerawork of this film presentation planting you upon the stage that is looked upon by said audience, you get a good look at the just as emotionally-involved and, to the character's effectiveness, complimentary expressiveness upon Karimloo's face, or at least the half that isn't obscured by that cool white mask. Karimloo quite steals the show, much like the very character he portrays, standing as a compelling force who commands attention, though not necessarily to him, but rather, to the compellingness within the story itself, because as rich with artistry and style as Andrew Lloyd Webber's original musical vision and this performance of said musical vision are, neither full investment nor the play itself would anything if it wasn't for what was brought to the table well over 25 years years ago by Gaston Leroux, whose subject matter drips with intrigue that both Andrew Lloyd Webber and this production stay faithful to, bypassing aforementioned questionable storytelling decisions enough to draw much of the compellingness from Leroux's rudimentary vision, whose essence is further absorbed by Laurence Connor's presentation of this stage adaptation that already does enough justice to its worthy source material. The final film product's director, Laurence Connor, makes his share of uneven storytelling decisions, thrusting atmospheric viewpoint back and forth between subjective and objective rather awkwardly, but when Connor's subjective storytelling tastes do find a comfortable flow, as they often do, intricate and often rather elaborately well-staged up-close footage and Nick Morris' clever editing plant you upon the stage and give you a genuine film feel that may be diluted by natural stage limitations and some degree of staginess' being undeniable, but remains effective enough for you to more often than not bond with this story's substance and world in a fashion that you just can't find as an audience member in the highly respectable yet objective world of theatre. Of course, the usual problem with subjective storytelling is that it takes a fair bit of the spark out of spectacle, and sure enough, while there's no escaping entertainment value or compellingness when watching this production, theatrical thrills go thinned out, but just barely, as Connors' storytelling, even at it's most subjective, is just distanced enough for you to take in this production's technical value, which is nothing if not dazzling. What can make or break the full success of any major stage production, especially one of this much scale and significance, is production value, and with this particular rendition of a particularly grand production being particularly special (Yes, all of those, "particulars" were on purpose, grammar geeks), production needs to be especially impressive, thus they go all out in restoring the late, great Maria Björnson's set and costume designs intricately and brilliantly, with unique touches that further color things up and compliment one dazzlingly elaborate set piece after another. Cameron Mackintosh's production goes pumped with inspiration, and the final result is a thoroughly entertaining and affectionately faithful tribute to Andrew Lloyd Webber's mega-hit that is presented generally very well in this film, thus making for a final product that makes for quite the rewarding watch. As the music of the night fades yet again, the production is left tainted by a degree of heavy-handed pacing, while the production's film presentation's subjective viewpoint emphasizes repetitious spells and staginess with a moderate degree of awkwardness, made worse by momentary breakings of subjective illusion, both accidental and questionably intentional, thus making for a final product that is improvable, yet not so much so that it doesn't rewarding, as the production delivers on fine faithfulness to Andrew Lloyd Webber's upstanding musicality, as well as charismatic performances - particuarly that of the compellingly near-transformative Ramin Karimloo - and dazzling production values, while Laurence Connor's film presentation of the event delivers on excellent camerawork and clever editing by Nick Morris' that much more often than not to a fine job of plunging you into Gaston Leroux's compelling story, thus making "The Phantom of the Opera at the Royal Albert Hall" a thoroughly entertaining stage production and film that rewards as a tribute to Andrew Lloyd Webber's unparalleled hit of a spectacular. 3/5 - Good
Cameron Johnson
Super Reviewer
Fabulous! The woman that plays the part of Christine (Sierra Boggess) sings like an angel. The music from this is some of the most memorable of all musicals out there, in my opinion. Beautiful production. There is a 25th Anniversary performance afterwards that actually involves Andrew Lloyd Webber himself. Very cool!
Cynthia S.
Super Reviewer
The Phantom of the Opera at the Royal Albert Hall Quotes
There are no approved quotes yet for this movie.