The Physician
(2014)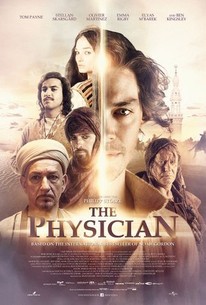 AUDIENCE SCORE
Critic Consensus: No consensus yet.
Movie Info
When nine-year-old Rob Cole felt the life force slipping from his mother's hand he could not foresee that this terrifying awareness of impending death was a gift that would lead him from the familiar life of 11th-century London to small villages throughout England and finally to the medical school at Ispahan. Though apprenticed to an itinerant barber surgeon, it is the dazzling surgery of a Jewish physician trained by the legendary Persian physician Avicenna that inspires him to accept his gift and to commit his life to healing by studying at Avicenna's school. Despite the ban on Christian students, Rob goes there, disguising himself as a Jew to gain admission. Gordon has written an adventurous and inspiring tale of a quest for medical knowledge pursued in a violent world full of superstition and prejudice.
Critic Reviews for The Physician
All Critics (3) | Top Critics (1) | Fresh (3) | Rotten (0)
For those who miss the substance and scope of films like "Lawrence of Arabia" and "The Man Who Would Be King," Philipp Stoelzl's "The Physician" restores one's faith in the medium - if not necessarily one's faith in faith.

It is a very recommendable option if you simply want to sit in front of the TV and enjoy an entertaining film. [Full Review in Spanish]
Old fashioned, absurdly overlong, but a lovely recreation of the Dark Ages and an entertaining ride, thanks to Ben Kingsley, Stellan Skarsgard and Tom Payne.
Audience Reviews for The Physician
I really enjoyed this 2 1/2 hours long English speaking German/Morrocan/UK adventure based on the novel of the same name by Noah Gordon. Screenplay by Jan Berger was a solid piece of work with some tempo issues, but the directing of Philipp Stölzl was most of the time very enjoyable! With stars like Tom Payne, Ben Kingsley, Stellan Skarsgård, Olivier Martinez and Emma Rigby - you cannot miss! I loved the music composed by Ingo Ludwig Frenzel. Cinematography of Hagen Bogdanski was perfect for an adventure story, and editing by Sven Budelmann was with no faults. I love neat jobs and in this professional team there were plenty of them. [img]http://upload.wikimedia.org/wikipedia/en/thumb/9/9c/Physician_german_poster.jpg/220px-Physician_german_poster.jpg [/img] The plot is settled in 11th-century England, as much knowledge was lost in the Dark Ages, and the Church fought against black magic. Traveling Barber cared for the ordinary population's health. A young boy from 11th-century English town witnessed her death of a mysterious illness, and vows to study medicine. The young orphan, joins a moving Barber, who teaches him the basics of medieval medicine with services such as cupping therapy, bloodletting, and dental extraction. Even as an apprentice Rob recognizes the limitations of these simple practices. Our hero, Robert Cole, has an extraordinary gift: he can sense when someone left untreated has a terminal illness. This he noticed for the first time when he feels as a little boy that his sick mother, will die of appendicitis. When the Barber suffers from a cataract, a Jewish doctor heals the Barber completely. He learns a little bit of Jewish culture. He speaks with two children, Jesse and Benjamin. There, Rob sees for the first time a world map, and learns of the famous Ibn Sina, who teaches medicine in distant Persia... and decides to be his follower! Adventure with love story in the background explores the world where science and religion clash, and gives us some food for thought. Fun to watch!
½
The adaptation of Noah Gordon's best selling book about a British boy who travels to the medieval East to learn about medicine may have its financial roots in Germany, but the look and feel of the film couldn't be more international. The settings, the camera work, production design, everything's all top notch and in Hollywood's league. Some of the visuals are strikingly beautiful and take you to a different time and place, like every good film. The film can rely on a couple of acting veterans who never disappoint like Skarsgard and Kingsley, but the leading man, newcomer Tom Payne, makes for a talented and likable protagonist. The film's ambition is nothing less than telling a story of adventure, love and drama on the scale of Lawrence of Arabia. Of course it can't entirely live up to that. Still, the effort and great work that went into this shows and make for a very entertaining film. The only complaint would have to be how ham-fisted the commentary on current religious struggles that made it into the film feel. Those aspects of the story may have a couple of very true things to say about how religion, prejudice and fear-mongering has made life more difficult for centuries, it all feels a bit forced, though. The result is still fine adventure cinema on a massive scale, worth checking out.
The Physician Quotes
There are no approved quotes yet for this movie.