The Plainsman
(1936)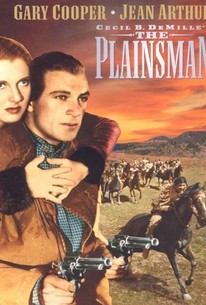 Movie Info
One is immediately aware that The Plainsman is a Cecil B. DeMille production in the opening scene, wherein President Abraham Lincoln (Frank McGlynn Sr.), on the verge of signing crucial legislation which will determine the future of the American West, is dragged away from his Cabinet by a scolding Mrs. Lincoln (Leila McIntyre), who informs her husband that he'll be late for the theater! The story proper picks up in the years just following the Civil War, as crooked arms dealer John Lattimer (Charles Bickford) schemes to sell a huge shipment of repeating rifles to the Indians. Constantly thwarting Lattimer's schemes is lawman Wild Bill Hickok (Gary Cooper), who soon forms a strong alliance with Indian scout Buffalo Bill Cody (James Ellison). Rambunctious Calamity Jane (Jean Arthur) is crazy about Wild Bill, but he refuses to have anything to do with her, contemptuously wiping his mouth whenever he kisses her. He prefers the company of winsome Louisa (Dorothy Burgess), but gallantly steps aside when Louisa marries Buffalo Bill. Upon learning that a band of Indians armed with Lattimer's rifles have attacked a military garrison, Wild Bill tells General Custer (John Miljan), who in turn sends Buffalo Bill to the garrison with a consignment of weapons. Wild Bill then tries to arrange a peace conference with Indian chief Yellow Hand (Paul Harvey), but is sidetracked when he sees Calamity Jane being captured by two Indian braves. Riding to her rescue, Wild Bill is himself captured and tortured in the hope that he'll reveal the whereabouts of Buffalo Bill and his weapons. He refuses to talk, but Calamity, horrified at the agony endured by Wild Bill, tells all. Her breach of confidence leads indirectly to Custer's death at the Little Big Horn (not seen, but described by a young Indian played by DeMille's then son-in-law Anthony Quinn), whereupon Wild Bill disgustedly breaks off all communication with her. Hoping to make up for her past sins, Calamity warns Wild Bill that Lattimer has come to town a-gunning for him. Wild Bill makes short work of Lattimer, only to be shot in the back by the villain's snivelling confederate Jack McCall (Porter Hall). As he breathes his last, Wild Bill forgives Calamity for revealing the whereabouts of the ammunition; with tears in her eyes, Calamity plants a kiss on Wild Bill's lips that he'll never wipe off. As can be seen, accuracy is not the strong suit of The Plainsman; DeMille, like Buffalo Bill before him, was more interested in putting on a helluva good show than offering a dry history lesson. Unfortunately, the film often promises more than it can deliver, thanks to DeMille's insistence upon filming more of his big scenes indoors and relying far too heavily on grainy process screens. Still, the DeMille version of The Plainsman is infinitely more entertaining than the 1966 remake with Don Murray and Abby Dalton.
Critic Reviews for The Plainsman
Audience Reviews for The Plainsman
½
DeMille attempts his standard epic story. Like the opening text states, which scrolls by similarly to Star Wars' opening, the story plays loosely with history in order to condense events and characters that "conquered" the west. It is full of themes of Manifest Destiny, "wild" white men who decimate supposedly savage Native Americans to make the west safe for fragile homemaking women, or even the tom-boyish types like Calamity Jane. The stars Cooper as Wild Bill Hickok and Arthur as Calamity Jane are both likeable, but have had better roles elsewhere. Ellison as Buffalo Bill Cody (let me tell you, it is confusing with two characters named Bill!) was an unknown to me. He does an acceptable job standing eye to eye with the 6' 3" Cooper. Bickford as a John Latimer pulls off a somewhat menacing villain. I didn't like the racist portrayal of the Native Americans. I liked how both frontiersmen, both Bills, had the skills for tracking and killing because they were veterans of the Civil War and yet they were "long-hairs" who couldn't fit in in civilization. Yet, I don't think this movie explored those themes enough.
Byron Brubaker
Super Reviewer
The Plainsman Quotes
There are no approved quotes yet for this movie.