The Players
(2014)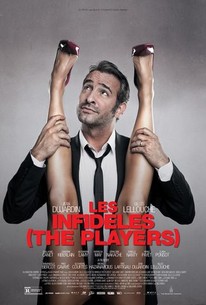 TOMATOMETER
AUDIENCE SCORE
Critic Consensus: Perhaps fittingly for an ostensible omnibus comedy about infidelity, The Players fails to find the humor in its subject, cheating viewers out of 109 minutes along the way.
Movie Info
Eight short films explore the subject of male infidelity. Serial cheaters, Fred and Greg, spend a night on the town doing what they do best, and with absolutely no regrets. The duo play various characters in assorted extracurricular situations, ranging from sexist to the darker sides of carnal desires.
News & Interviews for The Players
Critic Reviews for The Players
Audience Reviews for The Players
½
It's really surprising how bad this film is. Not really unsurprising to see the film be as misogynistic as it is. Look at the poster, what could you have expected from a movie with THIS poster? At the same time I don't think this film ever pretends that these characters in these shorts, every one of them featuring Jean Dujardin and Gilles Lellouche, are particularly likable, nor are they people that you should aspire to be. This suffers from exactly the same thing that all anthology films suffer from. There's no real consistent tone. That is to be expected with 8 short films in one package, but I don't think, at the very least, that I've ever seen one miss the mark so much as this movie has. There's a review here that makes mention of the fact that it isn't a mixed bag, almost every one of the segments is bad. I don't completely agree with that as I thought that one segment, the Cheaters' Anonymous one, was actually the one saving grace of the film. It was the funniest one by far. It was the only moment where the film showed SOME spark of life. But I digress, the problem this film has, outside of some very ugly, vile, crass attempts at humor, is the fact that it just isn't funny enough to be considered a comedy. Nor is it insightful as a drama to provide an explanation as to why men are compelled to cheat, almost as if it was part of their DNA. There's hints of that present in the film, but not nearly enough to make this any better. If you want to be a sex comedy then just gives the directors a parameter to work within. But I don't think that anybody was told that they had to work within certain parameters. They were just told to make films about their perspective on two men cheating on their wives and why they do it. And this is what we got back. Or if you want an insightful, character study on the nature of infidelity and why those who do it choose to do it, then the same thing. At least there would be something resembling consistency, even if the entire product was a mixed bag, at least it would be consistent. The same movie that features a serious argument between a man and his wife about their past infidelities is the same one that says, at the end, Fred and Greg, becoming homosexuals together and going on to become famous on the Vegas strip with a Siegfried and Roy-type act. It's also the same movie that seems a bunch of men, in a Cheaters' Anonymous group, act like a bunch of little kids. It just doesn't match up. I really do not plan on going over each one of the shorts, as it would just take too much time, and the shorts themselves lack enough substance to do a mini-review of each one. Jean Dujardin is good, as always, and Gilles Lellouche is also good. They're both charismatic and seem to have good chemistry with each other, so that's not really the problem. The problem is the actual content of the film. Why would a woman ever want to watch this film? That is a legitimate question. Why would they? This is the kind of movie where if a girl walked in on me watching it, I would feel embarrassed. Perhaps I'm overstating the point, but this is just no good at all. One good short, out of EIGHT, and solid leads does not a good movie make, that's for damn sure.
Jesse Ortega
Super Reviewer
As funny as cancer. It sounded like a good idea for a unapologetic misogynistic -but charming- comedy, but the fractured storyline has many more lows than ups, the so called humour is as scarce as crass. Almost insufferable.
Pierluigi Puccini
Super Reviewer
½
A bit hit and miss but sometimes very funny collection of short films revolving around sex, fidelity and testosterone.
Daniel Parsons
Super Reviewer
The Players Quotes
There are no approved quotes yet for this movie.