The Post
(2018)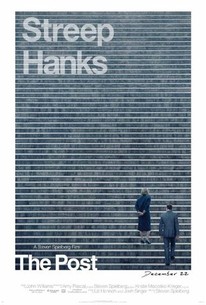 TOMATOMETER
AUDIENCE SCORE
Critic Consensus: The Post's period setting belies its bitingly timely themes, brought compellingly to life by director Steven Spielberg and an outstanding ensemble cast.
Movie Info
Steven Spielberg directs Meryl Streep and Tom Hanks in The Post, a thrilling drama about the unlikely partnership between The Washington Post's Katharine Graham (Streep), the first female publisher of a major American newspaper, and editor Ben Bradlee (Hanks), as they race to catch up with The New York Times to expose a massive cover-up of government secrets that spanned three decades and four U.S. Presidents. The two must overcome their differences as they risk their careers -- and their very freedom -- to help bring long-buried truths to light. The Post marks the first time Meryl Streep, Tom Hanks and Steven Spielberg have collaborated on a project. In addition to directing, Spielberg produces along with Amy Pascal and Kristie Macosko Krieger. The script was written by Liz Hannah and Josh Singer, and the film features an acclaimed ensemble cast including Alison Brie, Carrie Coon, David Cross, Bruce Greenwood, Tracy Letts, Bob Odenkirk, Sarah Paulson, Jesse Plemons, Matthew Rhys, Michael Stuhlbarg, Bradley Whitford and Zach Woods.
Critic Reviews for The Post
Audience Reviews for The Post
½
Spielberg's least spectacular film can rely on a great cast and the powerful message of the importance of a free journalism as portrayed by the real case of Washington Post vs the US government in 1971. Starts out rather slowly but ends up very satisfying. It says a lot about the catastrophic current US administration that this film feels like full attack on its handling of the press.
½
Timely modern-day commentary is offered in this look back to the drama that unfolded with the release of several volumes of classified military documents that outline the failure of U.S. policy in Vietnam. Everyone is on point, more or less, working professionals delivering a class on how to deliver the goods with class. Still ... although the stakes are high there is a wee disconnect that enables a lack of concern for the efforts and this'll go down as just another "newspaper movie", without the hoopla the players usually get.
Kevin M. Williams
Super Reviewer
½
Steven Spielberg has been a household name for decades and you can always tell that there's a unique filmmaker at the helm when you watch his films. The Post is his latest outing and that statement hasn't diminished one bit. Once again putting the story and characters before anything else (even though that's all this film really needs), he has always proven to be the very best of the best. For such a slow-paced movie, having such a simple premise, The Post moved along at a brisk pace in my opinion. Using dialogue as the action of the movie has always been a love of mine when it comes to storytelling. While not as rapid-fire as a film written by Aaron Sorkin, The Post is a film that I didn't find myself bored by in the slightest. I was intrigued from start to finish and here's why I must recommend it. Following the uncovering of certain government secrets that had been kept hidden for many years, Kay Graham (Meryl Streep) leads the Washington Post, as Ben Bradlee (Tom Hanks), the editor in chief of the paper, sets out to do whatever is necessary in order to be the first newspaper to publish this article, even if it means risking their empire altogether. The premise itself is really quite simple, but it really comes down to how well-acted this film truly is. Everyone involved was truly a revelation here. It goes without saying that both Meryl Streep and Tom Hanks are both legends when it comes to performing in front of cameras. Say what you will about certain films that either one of them may have done that you disliked, but there's no denying that they pretty much put all they have into every one of their roles. So, that being said, the supporting cast really needs to up their game in order to compete with the best, and each an every one of them also shine here. This movie is stacked with talent ranging from a Bob Odenkirk to Bruce Greenwood, to newcomers like Jesse Plemons, but if you're given the opportunity to act on the set of a Spielberg movie, are you really going to deny it if you have a free schedule? So, needless to say, this entire ensemble deserves an award. While watching this film unfold, I found myself looking back on the film Spotlight, which took Best Picture at the Oscars two years ago. This movie has the same form of pacing and dialogue that that film has and upon research after watching The Post, I realized that the same writer in Josh Singer had worked on both of these screenplays, which made complete sense. Joined by a fairly new screenwriter in terms of feature films, Liz Hannah definitely proves herself as a worthy writer as well. The calm atmosphere that surrounded this film was the one aspect that I found myself falling in love with. When a movie manages to keep a very slow pace and still suck you in, then it's done its job right. The Post, in the end, is an intensely-written drama that takes its time and uses your patience as a tool to have you feel inspired by the end. Not that this film has a story that's all that enthralling in terms of excitement, but if you read between the lines as each scene moves along, then the bigger picture will start to appear. From the wonderful direction by Spielberg to the outstanding performances by the entire cast, to terrific writing by Hannah and Singer, this is a fantastic drama that's held together by a solid score by composer John Williams. The Post is one of the better movies of 2017 and I highly recommend checking it out.
The Post Quotes
There are no approved quotes yet for this movie.