The Powerpuff Girls Movie
(2002)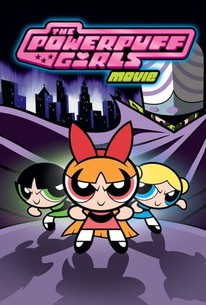 The Powerpuff Girls Movie Photos
Movie Info
The most adorable little superheroines in all of Townsville make the jump to the big screen in this feature-length animated adventure based on the popular Cartoon Network series The Powerpuff Girls. Brilliant scientist Professor Utonium (voice of Tom Kane) is performing an experiment in his lab when Jojo, a monkey trained to assist the professor, accidentally drops a bottle of hyper-powerful Chemical X into a mixture of sugar, spice, and everything nice. To the professor's surprise, what should emerge from the subsequent chemical reaction but three little girls: bright and practical Blossom (voice of Cathy Cavadini), sweet and sunny Bubbles (voice of Tara Strong), and tomboyish Buttercup (voice of Elizabeth Daily). Professor Utonium discovers that the girls have remarkable powers and super-human strength, and he hopes they'll be able to improve life in the crime-infected City of Townsville. However, after their first day at Pokey Oaks Kindergarten with Ms. Keane (voice of Jennifer Hale), the girls learn that having super powers can be both a blessing and a curse. Rejected by their classmates and quite unhappy, the girls are easily swayed when Mojo Jojo (voice of Roger L. Jackson), a superintelligent monkey in a turban, asks them to help him with a campaign to save the city. What the girls don't know is that Mojo Jojo is actually the monkey who once assisted the Professor; now he's embraced evil and hopes to use the Powerpuff Girls as part of his criminal scheme to wrestle control of Townsville away from the dense but well-meaning Mayor (voice of Tom Kenny). The Powerpuff Girls Movie was directed and co-written by Craig McCracken, who created the original television show as well as writing most of the episodes.
Critic Reviews for The Powerpuff Girls Movie
Audience Reviews for The Powerpuff Girls Movie
½
I loved the show, but this was really stupid. The animation was only a little better than the show. The story was actually pretty good and gave a good backround of their past. I didn't hate this, but it wasn't very good.
Jim Careter
Super Reviewer
Though most people would think of the powerpuff girls as a girl show it really wasn't and by far its one of the best cartoons on cartoon network. You don't have to be a kid to watch it. but heres my argument with the critics of rotten tomatoes, you give the powerpuff girls movie a 65% but you give the pokemon movie 14% WHAT IS WRONG WITH YOU
Michael Edwards
Super Reviewer
A fun introduction to the crazy and sweet superheroines "The Powerpuff Girls"! It includes their origin story. It's great when they trash an entire city with their new powers. Their monkey adversary "Mojo Jojo" and his legion of other bad monkeys is hilarious. It's quite trippy. There's a "Dexter's Laboratory" short to endure before the girls come onscreen.
Lafe Fredbjornson
Super Reviewer
The Powerpuff Girls Movie Quotes
| | |
| --- | --- |
| Professor Utonium: | Oh, girls, thank goodness you're okay! Now let's get out of this town and find a new safe place to live! |
| Buttercup: | It's no use, Professor. |
| Bubbles: | We already tried running away! |
| Blossom: | We have to fix the problem we helped start. You said to give everyone a little time to understand our specialness. Well now it's time for everyone to understand. Especially Mojo! [the girls zip off to save the day] |
| | |
| --- | --- |
| Mojo Jojo: | Aw, you're actually trying to stop me? That is so cute. |
| Bubbles: | Try, nothing. |
| Blossom: | We will stop you. |
| Buttercup: | Who you calling cute? |
| | |
| --- | --- |
| Blossom: | Come on girls, let's put an end to this gorilla warfare! |
| | |
| --- | --- |
| Professor Utonium: | Buttercup. Because... it also begins with a B! |