The Prince
(2014)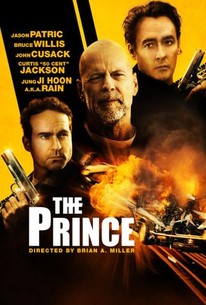 Movie Info
Jason Patric, Bruce Willis and John Cusack face off in this action-packed thriller. A retired assassin is drawn back into the life he gave up when his daughter is kidnapped. To rescue her, he must confront his former rival.(C) Lionsgate
News & Interviews for The Prince
Critic Reviews for The Prince
Audience Reviews for The Prince
½
Paul (Jason Patric) is a mafia hit-man in New Orleans, and with a baby on the way, he wants out. Paul thinks the only way to do that is to kill his boss (Bruce Willis). With a car bomb in place, Paul waits for his boss to leave for the day, but is shocked to see the bosses wife and daughter get into the car instead. After the tragedy, Paul and his family flea and for 18 years, live in peace, but that all changes when his daughter goes down to New Orleans for a weekend getaway and disappears. The dry, emotionless, Jason Patric stars in this film and as it turns out, he's perfect for the role. As The Prince, the heir apparent, Patric has to play both a loving father and a ruthless criminal and does so admirably. While he's listed in the background, he really is the star of the movie, with the other big names making sporadic appearances. It's a shame, because Bruce Willis's boss character seemed to be a really interesting guy, who I'd have loved to see more of and learn more about. The Prince isn't very unique and you can't help but draw parallels to A History of Violence. While not as good, the film still features some intense action and a great story. The one draw back is that the Prince is so focused on this man Paul, and his goals, that they ignore some very compelling side stories. Had I been the writer, I would have utilized flashbacks through out, to show more of the prince and the bosses story, but sadly they didn't. Aside from that I really enjoyed the film, it was a chase, a mystery, and a mafia film rolled into one, with some great cameos, and an unexpected ending. This is the kind of action film I'd love to see more of. It isn't simply about the special effects and the guns, there is a purpose behind all of it, and that makes all the difference.
Todd Smith
Super Reviewer
½
Jason Patric, Bruce Willis, and John Cusack star in the noir, crime thriller The Prince. When his daughter goes missing in New Orleans, a retired hitman is forced to reconnects with his old gangster contacts in order to save her life. It's a rather familiar story and follows all of the usual tropes. But, the performances are pretty sold and there are some intense fight sequences. Also, the storytelling is able to create a fair amount of mystery and suspense. Yet while it's entertaining, The Prince is a formulaic and forgettable action film.
Dann Michalski
Super Reviewer
½
A tough, stylish and fast-paced action film that has a little bit of Taken mixed in with Unforgiven and No Country for Old Men. A quick-fire thriller with plenty of action and star power. Jason Patric is terrific, its good to see him in a film again and taking charge in as an action hero. John Cusack is calm, confident and does not over act. Bruce Willis is excellent, he looks like he is having a great time playing a bad guy in this film and should play these types of roles more often if he wants to separate himself from his more heroic characters. Its neither original or very charismatic, but its fun and works for good-old fun entertainment.