The Prince Of Thieves
(1948)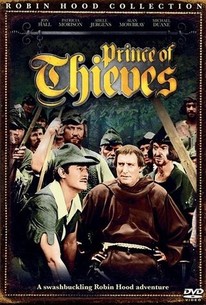 AUDIENCE SCORE
Critic Consensus: No consensus yet.
Movie Info
Robin Hood (Jon Hall) acosts Sir Allan Claire (Michael Duane) and his sister Lady Marian (Patricia Morison) in Sherwood Forest, only to learn that they are allies of his friend King Richard, who is away fighting in France. He also discovers that Sir Allan was on his way to claim the hand of his betrothed bride, Lady Christabel (Adele Jergens) -- and is forced to tell his new friend that she is, instead, to be married to the nefarious Baron Tristram (Gavin Muir), all as part of a political maneuver by her father. Robin and Sir Allan vow to prevent the marriage, each for his own reasons, even as the knight's sister -- at first resistant to the bandit's charms -- finds herself falling in love with Robin. But Baron Tristram and his allies aren't so easily thwarted, and the struggle takes heroes and villains alike from the dungeons of Notingham Castle to Robin's stronghold in Sherwood. Among the notable (and, at times, improbable) cast members in this breezy B-movie Robin Hood adventure are Walter Sande as Little John, Alan Mowbray as Friar Tuck, Sid Saylor as Will Scarlet, H. B. Warner as Robin's aging mentor, and comedienne Robin Raymond as a serving girl.
Critic Reviews for The Prince Of Thieves
Audience Reviews
There are no featured reviews for The Prince Of Thieves at this time.
The Prince Of Thieves Quotes
There are no approved quotes yet for this movie.