The Prizefighter and the Lady
(1933)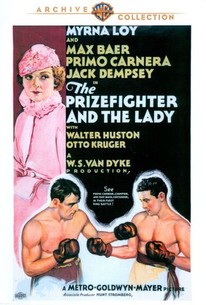 AUDIENCE SCORE
Critic Consensus: No consensus yet.
The Prizefighter and the Lady Photos
Movie Info
One woman helps make an unknown boxer a star, but could a handful lead him back to obscurity again? Steve Morgan (Max Baer) is a ex-sailor tending bar in a seedy dive when The Professor (Walter Huston), a boxing coach, sees Morgan make short work of a troublesome customer. The Professor convinces Morgan that he has what it takes to be a successful prizefighter, and takes him under his wing. One day, while Morgan is jogging, he's nearly hit by a car operated by an attractive woman named Belle (Myrna Loy), who is making a name for herself as a nightclub singer. Belle has been dating underworld kingpin Willie Ryan (Otto Kruger), but before long Morgan is able to win her away from Ryan, and they get married. Morgan's marriage to Belle turns out to be god for publicity, and soon he's racked up an impressive string of victories, but Morgan can't keep his eyes off other women, and she has reason to believe he's been unfaithful. Belle, despondent, goes back to Ryan, while Morgan starts hitting the bottle, just as he's lined up a championship fight with Primo Carnera. The Prizefighter and the Lady gave heavyweight contender Max Baer his first leading role; a year after the film was released, Baer faced off against Carnera in a real championship bout, which Baer won by a knockout.
Critic Reviews for The Prizefighter and the Lady
There are no critic reviews yet for The Prizefighter and the Lady. Keep checking Rotten Tomatoes for updates!
Audience Reviews for The Prizefighter and the Lady
½
There is a lot to like about this movie, starting with the beautiful Myrna Loy, who is caught in a love triangle between a gangster and an up and coming boxer. The boxer is played by real life heavyweight Max Baer, who is certainly as good an actor as most for the time period, and very interesting to watch. The gangster is played well by Otto Kruger, so it's a strong cast. The film's pace over the first half or so is great, and I found myself a little surprised with one of the directions it took, but I won't spoil it. I liked seeing Loy singing (though it may have been lip sync'd), and it was fun (and a little silly) to see Baer in a pretty long musical number later. That's probably the beginning of where the film finds itself being a little too long, but it's really the big fight at the end with real-life champion Primo Canera which drags on. They introduce a number of other real-life boxers, which may have been a thrill to boxing fans in 1933, but with the exception of Jack Dempsey, is less interesting today (at least to me). During these introductions, there is a pretty mean joke about Kate Smith, who is said to be in the audience "sitting in seats one, two, and three". The boxing action itself is spotty - director W.S Van Dyke includes some nice shots, such as Carnera coming out of his corner, as well as an overhead angle, but there is quite a bit of footage that you can tell has been sped up, and quite a bit that looks unrealistic. I also hated the ending. Oddly enough, in a movie with so many big name boxers, it was the boxing that caused me to drop the rating a bit. Still worth watching though.
Antonius Block
Super Reviewer
The Prizefighter and the Lady Quotes
There are no approved quotes yet for this movie.