The Prodigy
(2019)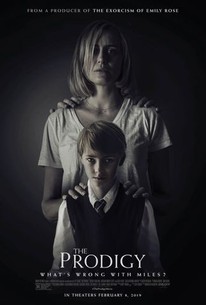 TOMATOMETER
AUDIENCE SCORE
Critic Consensus: The Prodigy doesn't take the bad seed genre to any truly new places, but for horror fans in search of an evil child to fear, it might still be worth a watch.
Movie Info
In her much-anticipated foray into the horror-thriller genre, Golden Globe and Emmy nominee Taylor Schilling stars in THE PRODIGY as Sarah, a mother whose young son Miles' disturbing behavior signals that an evil, possibly supernatural force has overtaken him. Fearing for her family's safety, Sarah must choose between her maternal instinct to love and protect Miles and a desperate need to investigate what -- or who -- is causing his dark turn. She is forced to look for answers in the past, taking the audience on a wild ride; one where the line between perception and reality becomes frighteningly blurry.
Critic Reviews for The Prodigy
Audience Reviews for The Prodigy
Sleepily' directed is a good phrase and perfectly describes this film, which feels likes it's literally sleepwalking through cliches, with a woozy score, weirdly muffled sound-levels, and the occasional mechanical jump-scare entirely failing to liven things up. The kid is pretty good, in a generic tap-dancing actor-kid sort of way. Ugly lighting and sloppy editing don't help at all.
Charles Brennan
Super Reviewer
½
Iâ(TM)ve never been a huge fan of the horror genre, aside from a few gems that stand out to me. It takes a lot for a horror film to impress me, as the genre has become somewhat of the butt of many jokes these days. The Prodigy wasnâ(TM)t ever going to be the best horror film to come along in decades or anything like that, so I had no expectations when going into this one. With that said, this is the definition of a film that has a lot of promising elements, but ultimately fails to capitalize on them. I canâ(TM)t get myself to recommend this movie, but I also donâ(TM)t feel the need to rip it apart either. The Prodigy is a middle of the road experience at best, but there is some good in it. After failing to conceive a child for many years, a couple gains the happiness theyâ(TM)ve been seeking when it finally becomes possible. After just months of being born, Miles shows signs of being a genius, hence the title, The Prodigy. When mysterious things begin to occur due to his behaviour, religious beliefs and myths come to light and this film becomes incredibly intriguing. Without ruining what powers are really at work here, Iâ(TM)ll just say the twist of this story had me hooked. Itâ(TM)s a little silly an overly convoluted, but it worked in the context of the film. Sadly, thatâ(TM)s where most of my praise ends. With a solid cast including Taylor Schilling, Colm Feore, and young Jackson Robert Scott, theyâ(TM)re able to sell this material and make it very believable. The third act, however, is one of the dumbest conclusions to a film Iâ(TM)ve seen a while. To even get into it would be a spoiler, but it felt like the climax to a completely different film and it felt mean-spirited to me. Itâ(TM)s like a unique idea was building to something cool, but ultimately takes a super easy route out of the story and the fact that itâ(TM)s a child playing this certain role was slightly disturbing (in a bad way). In the end, The Prodigy is a horror film that benefits from a few great jump-scares that had me jumping out of my seat and some very devoted performances, but the movie truly does unravel by the time the credits roll. This is the worst kind of film to watch because itâ(TM)s not terrible by any means, but it doesnâ(TM)t fully embrace its premise. This movie was like watching a superhero film where the hero of the story tells you everything they can do, but never showcases much of that power. The Prodigy may please some viewers, but I found it to be a waste of potential and mean-spirited from start to finish. Even though I wasnâ(TM)t excited for this movie in any way, I was still disappointed.
The Prodigy Quotes
There are no approved quotes yet for this movie.