The Prophecy II
(1998)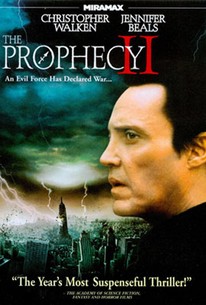 Movie Info
Gabriel is the leader of an evil angel group that seeks to destroy humanity because God favors mortals. After returning from hell, Gabriel goes to the L.A. streets, where he intends to finish his bloody war by murdering nurse Jennifer, who is pregnant with the second incarnation of Christ.
Critic Reviews for The Prophecy II
All Critics (6) | Fresh (2) | Rotten (4) | DVD (1)
If you thought The Prophecy was a fluke, it was.
January 29, 2004 | Rating: 2/5
Worth it only for the Walken moments...A comedown from the original
September 12, 2002 | Rating: 3/5
Best in the series. Good creepy fun.
September 2, 2002 | Rating: 4/5
Audience Reviews for The Prophecy II
½
The angelic war continues in The Prophecy II, a daring supernatural thriller. In this chapter Gabriel is released from Hell and seeks to stop the angels from creating a nephilim; an angel/human hybrid that could potentially turn the tide of the war. The casting is quite good and includes Christopher Walken, Jennifer Beal, and Brittany Murphy. However, it's the chemistry between Walken and Murphy that steals the film; they make for a great duo and have extraordinary good interplay with each other. The story is a lot tighter and more focused than in the first film, making it a much more enjoyable watch. At its core The Prophecy II is a B-movie, but it's irresistibly entertaining and a lot of fun.
Dann Michalski
Super Reviewer
Prophecy II is a noticeable step down from the first one, no doubt due in large part to the absence of Elias Koteas. The second one also lacks much of the humor the first one had, which gave Prophecy I so much charm. Still, it's Christopher Walken as an evil angel, which is always awesome, and Brittany Murphy was a refreshing casting choice.
Jeffrey Meyers
Super Reviewer
I like The Prophecy, it's a great and unique movie and the sequel The Prophecy II is a great follow up. Chirstopher Walken does another great performance as Gabriel, he's such a talented actor and this role is one of the best roles he's done. The plot sees a women named Valerie who works as a nurse suddenly have a man crash land on her car, in the hospital she wants to make it up with him so after walking her home he sleeps with her meanwhile Gabriel is released from hell by Lucifer, he then goes to find Valerie who could stop the war with her child. Gabriel finds two teens who commit suicide by crashing their car so he resurrects the girl named Izzy who can help him find her, soon Gabriel discovers where she is and goes to kill her but suddenly Danyeal shows up and holds him off but Gabriel overpowers Danyeal and impales him then goes after her, Danyael then gets up and tries to find her. Soon Danyael finds Valerie and takes her to the church where he shows her his true form. While he searches for Thomas's note book Gabriel shows up and tries to kill her but the police arrive and shoot him, Danyael quickly leaves with Valaerie. In the police station Gabriel wakes up and takes Izzy from the interrogation room, Danyeal and Valreie must go to Eden where she will be protected by the Angel Michael but Gabriel arrives there and is let in so Valerie must be strong or Gabriel will kill her and the war will continue. The Prophecy II is a great sequel to the 1995 classic.
Cassandra Maples
Super Reviewer
The Prophecy II Quotes
There are no approved quotes yet for this movie.