The Pumpkin Karver
(2006)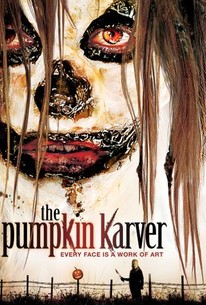 AUDIENCE SCORE
Critic Consensus: No consensus yet.
The Pumpkin Karver Photos
Movie Info
A family looking to start life anew following a deadly tragedy finds that the past isn't as dead as they thought in director Robert Mann's Halloween-themed slasher film. It was supposed to be an innocent prank, but when Jonathan saw his beautiful sister being attacked by a pumpkin-masked assailant, he stabbed the mysterious figure to death without realizing that the man behind the mask was in fact her mischievous boyfriend Alex. Now the family has moved to a new town in hopes of leaving the past behind, but when an uninvited guest with a very familiar costume arrives at a Halloween party being held on a deserted farm, the rising body count proves that no matter how far you run, the past will always catch up.
Critic Reviews for The Pumpkin Karver
There are no critic reviews yet for The Pumpkin Karver. Keep checking Rotten Tomatoes for updates!
Audience Reviews for The Pumpkin Karver
This movie is terrible. It's so terrible. The acting...is just flat out ridiculous. So are the effects\make-up. Even the story isn't so great. But you know what, I still liked it. It's kind of one of those "It's-So-Bad-It's-Great" kind of things. The killings were pretty awesome, too. Although the front cover has nothing to do with the movie...That guy isn't in the movie...
Jacob Palacio
Super Reviewer
One of those really low budget, cheesy slasher films that are so bad they almost become quite good in a funny way. Looked liked it was made in the 80's not 2006, maybe that was on purpose? Silly story, bad effects, hammy acting make this good for a laugh rather than a scare. For low budget slasher fans only!
Following a tragic Halloween accident, Lynn, (Amy Weber) and Jonathan Starks, (Michael Zara) move to a new town to forget their past. Jump forward One Year Later where Lynn invites her brother to an all-night Halloween party at a pumpkin patch with some local kids to take his mind off things. However Jonathan believes that someone is following him around in town. When the partygoers are killed off one by one in a viciously brutal way the others start to believe that his stories are true, but blames the murders on a town legend involving a spirit known as The Pumpkin Karver. A modern slasher film with good looking girls in skimpy outfits screaming, a little suspense, blood and gore! Rated R: Graphic Violence, Graphic Language and Brief Nudity
The Pumpkin Karver Quotes
There are no approved quotes yet for this movie.