The Quatermass Xperiment
(1955)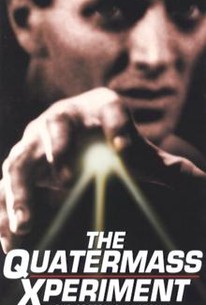 The Quatermass Xperiment Photos
Movie Info
This excellent British production involves an astronaut who returns to earth carrying an alien parasite which causes him to turn into a monster. Followed by Enemy from Space and Five Million Years to Earth, this was a very popular trilogy in its day.
Critic Reviews for The Quatermass Xperiment
Audience Reviews for The Quatermass Xperiment
The Quatermass Xperiment doesn't quite live up to all the hype as the granddaddy of Hammer Horror. Some parts were legitimately creepy (the cockpit film was disturbing in a last 2 minutes of Blair Witch Project kind of way) and the last 15 minutes were magnificently photographed -- like Third Man magnificently photographed (especially the nighttime zoo scene.) Thse praises aside, all you're really looking at is a lot of running around, some great-looking corpses and a brief but final shot of a really cool-looking creature. It's definitely worth a watch, but not necessarily worth all the trouble of getting a hard-to-acquire copy.
Michael Gildea
Super Reviewer
The Quatermass Xperiment was one of the first of the now famous Hammer Horror films. This genre of horror injected new life into a genre that somehow lost its horrifying appeal. The Quatermass Xperiment was aired as serials before it was adapted into a full blown production. The result is a tense, atmosphere Sci Fi horror picture that boasts some impressive performances and effective chills. This film set the standards for a new genre of horror, the Hammer Horror genre. The film has everything you'd expect from a horror film of this period and established the Hammer films as a standout brand for fans that enjoyed more modern twist of the classics of the 1930's. This film succeeds on many levels and it is a definite must see for genre fans. This film spawned a new breed of horror film, and it's one of the defining pictures of Hammer Studios. This film brought some much needed originality to the genre and it is a film that is entertaining from start to finish and relies on a well executed story to thrill the viewer. I've seen quite a few of the Hammer films, and the Quatermass Xperiment is one of the finest examples of revamped horror of the 1950's. If you're looking for a well made Sci Fi horror film, then give this one a shot. If you haven't seen this one yet, then seek this one out as it is a great genre classic that will delight genre fans looking for the right amount of Sci Fi and horror elements in one film. The genre would have more films, and Hammer would assume a permanent place in horror history. If you're new to Hammer horror, this is a perfect place to start.
½
B-movie horror that cannot really be described as sci-fi with its awful portrayal of science as well as some terrible physics. Pretty poor alien invasion affair that's only worth seeing as a study of the 50s.
Ross Collins
Super Reviewer
The Quatermass Xperiment Quotes
There are no approved quotes yet for this movie.