The Queen
(2006)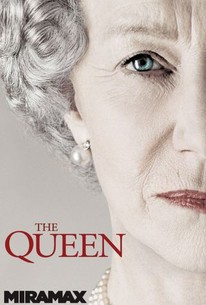 TOMATOMETER
AUDIENCE SCORE
Critic Consensus: Full of wit, humor, and pathos, Stephen Frears' moving portrait looks at life of the British royals during the period after Princess Diana's death.
Movie Info
This is the story of the death of Princess Diana of Wales and the relationship between British Prime Minister Tony Blair and the British Royal Family upon hearing of her death.
News & Interviews for The Queen
Critic Reviews for The Queen
Audience Reviews for The Queen
While it was good acting, casting, etc, I found the story to be biased in several ways. First of all, the fact that it was set during a very specific time. Less than a year, to be specific. This woman was (and still is, mind you) the Queen during amazing times of the 20th century and *that's* what is highlighted? No offense to Diana, of course, I do she think she was a lovely person. But I felt it was unfair to the Queen to an extent. Yes, these sentiments were expressed some, but everything made her look just *so* antiquated. Since then this woman has also met Lady Gaga. Then again, this is the trouble with making biopics of people, most of which are still alive and in power.
Jennifer D
Super Reviewer
½
Biopics about people who are still alive and very well known to everyone can be a very tricky thing. This movie is less a biopic than a glimpse at a dire situation in the life of Britain's royals. Shortly after young Tony Blair takes over the government of Great Britain Princess Di dies in Paris and the world expects the Windsors to react. Sadly, they don't. Most people probably did not realize how close the British people were to overthrow their royals due to their lack of reaction at that time. This film tries to explain what went on in Buckingham palace in the days that followed, even if some of the conversations depicted here have to be pure speculation. The script smartly balances between humorous observations and drama and the cast for it is excellent. Helen Mirren is an outstanding Elizabeth and Michael Sheen the perfect choice as Tony Blair. Their scenes together are a pleasure to see. Mirren even manages to turn it all around in the end and show the human being underneath the crown. Very interesting and entertaining.
½
A well-done, handsomely constructed look at The Royal Family and how they dealt with the death of Princess Diana, all while newly elected Prime Minister Tony Blair (Michael Sheen) attempted to steer the queen (Helen Mirren) from a potential disaster that would cast her in a bad light with her people. While it inevitably bogs down at times given director Stephen Frears indisputable methodical pacing to his films, it still remains a largely interesting, phenomenally acted film about the Family behind the scenes, and how the Queen avoided what could have been one of the most negative moments for her and her people by responding in a civil, respectable fashion. Mirren emobides the Queen fully, while Sheen proves to be an ideal fit as Blair. There are a few problems with it (notably James Cromwell as Phillip, the performance is fine, but the character seems shockingly one-note and underwritten), but it doesn't go on to long, and the array of old footage it offers is absolutely arresting.
Dan Schultz
Super Reviewer
The Queen Quotes
| | |
| --- | --- |
| Portrait artist: | We're in danger of losing too much that is good about this country, as it is. |
| | |
| --- | --- |
| Queen Mother: | Do you think any of your predecessors would have dropped everything and gone up to London because a bunch of hysterics carrying candles, needed help with their grief? |
| | |
| --- | --- |
| The Queen: | A good walk and fresh air sorts everything out. |
| | |
| --- | --- |
| Prince Philip: | (to the Queen) : Come on!! Move over cabbage!! |
| Prince Philip: | [to the Queen] Come on! Move over cabbage! |