The Queen of Versailles
(2012)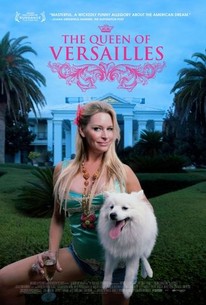 TOMATOMETER
AUDIENCE SCORE
Critic Consensus: The Queen of Versailles is a timely, engaging, and richly drawn portrait of the American Dream improbably composed of equal parts compassion and schadenfreude.
The Queen of Versailles Photos
Movie Info
The Queen of Versailles is a character-driven documentary about a billionaire family and their financial challenges in the wake of the economic crisis. With epic proportions of Shakespearean tragedy, the film follows two unique characters, whose rags-to-riches success stories reveal the innate virtues and flaws of the American Dream. The film begins with the family triumphantly constructing the biggest house in America, a 90,000 sq. ft. palace. Over the next two years, their sprawling empire, fueled by the real estate bubble and cheap money, falters due to the economic crisis. Major changes in lifestyle and character ensue within the cross-cultural household of family members and domestic staff. -- (C) Magnolia
Critic Reviews for The Queen of Versailles
Audience Reviews for The Queen of Versailles
This may be the most fascinating documentary to be made solely about a family since "An American Family." Jackie and David Siegel are some of the most shallow and yet intelligent people in America, being worth billions, both having a good education, and business acumen. They have gaudy taste, a love of McDonald's, and an inability to understand the debt they owe. Jackie spends too much money, plans for a huge home they now can't afford, and suffers under her husband's ill treatment and cranky attitude. The film starts with them doing well in 2008, planning to build the biggest home in America, and ends two years later with bankruptcy, a defaulted mortgage, and a shipwrecked marriage. The documentarians also interviewed their nannies, their children, their relatives, and others affected by the recession's claim on Siegel's billion dollar company. It's both sad to watch them fall from their pedestal, and creepily satisfying to watch them now know loss. The film ends on a sour note as the family unit starts to collapse, and nothing seems to be resolved. This is a must watch for anyone who loves people who are characters in and of themselves.
Spencer S.
Super Reviewer
Sublime. Trash has never been so white!
Christian C
Super Reviewer
There are thousands of stories about the impact of the economic crisis going on in the U.S. "Queen of Versailles" is one of those stories, and it happens to be one of the most interesting ones. This is a documentary about David Seigel, a billionaire who runs Westgate resorts, and his family as they build the biggest house in the U.S. At 90,000 sq. ft it is going to be something unbelievable to behold. 30 bathrooms, 17 kitchens, it's going to have it all. Then in the middle, the documentary becomes something else, as real estate bubble causes the Seigels to lose a fortune, lay off 7,000 employees, and risk losing everything. Their house becomes an unfinished dream, while David searches for a way to fix everything. The Seigels aren't bad people, they actually come off very nice, and seem like genuine good people. But, they are spoiled and filthy rich, so seeing them struggle financially is kind of funny, and you don't feel sorry for them at all really, but you like them. This is very entertaining and interesting, one of the better documentaries of the year. Also, it's a movie that will make you say "wtf?" probably more than any other movie of the year.
Everett Johnson
Super Reviewer
The Queen of Versailles Quotes
| | |
| --- | --- |
| Jackie Siegel: | What's my driver's name ? |
| Jackie Siegel: | What's my driver's name? |
| | |
| --- | --- |
| David Siegel: | Ah my step mother, the hostess with the two mostest |
| David Siegel: | Ah my step mother, the hostess with the two mostest. |
| | |
| --- | --- |
| David Siegel: | "If you loved me, why did you leave the lights on ?" |
| David Siegel: | If you loved me, why did you leave the lights on? |