The Quiet
(2006)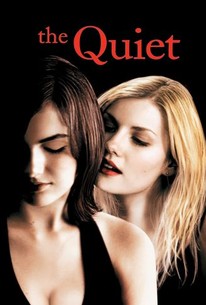 Movie Info
Cheerleader Nina Deer's seemingly idyllic life of is thrown into turmoil when Dot, a deaf teenager, is adopted into her suburban family. After first being ostracized as a "freak," Dot soon becomes extremely popular as those around her find her to be someone they can conveniently and safely confess their darkest secrets to. Struggling with a very disturbing secret of her own, Nina eventually strikes an unlikely bond with Dot herself.
News & Interviews for The Quiet
Critic Reviews for The Quiet
Audience Reviews for The Quiet
Camilla Belle, Elisha Cuthbert, David Gallagher, Martin Donovan, Edie Falco, Katy Mixon, Shannon Woodward, Shawn Ashmore DIRECTED BY: Jamie Babbitt A recently orphaned deaf and mute teen learns disturbing facts about her adoptive family in director Jamie Babbitt's visceral drama. After losing her father, Dot (Camilla Belle) goes to live with her dysfunctional godparents (Edie Falco and Martin Donovan) and their rebellious daughter Nina (Elisha Cuthbert). Before long, each is entrusting the silent Dot with shameful secrets they assume will be kept private. But Dot has secrets of her own ... This movie is dark and disturbing. Not going to be a film for everyone. Some of the scenes are uncomfortable and hard to sit through. The story itself is interesting, if you can handle a film like this. It's not one that will probably be watched more then once or twice. But still should be seen. Elisha really gives a great performance in this movie. Probably the best I have seen her do. Camilla was really good as well. I bought this movie without seeing it before hand. I am glad not to be disappointed. I often buy movies before I see them which in some cases can be a big mistake. But no regrets with this one. Hope more see it.
♥˩ƳИИ ƜѲѲƉƧ♥
Super Reviewer
½
a seemingly perfect family isn't complete without a healthy dose of dysfunction....
Stefanie C
Super Reviewer
Many viewers may find this movie hard to swallow because of the sensitive nature of it, but it is a very good movie. The good parts of this movie had to do with the sensitive nature, at the beginning of the movie, you are not so sure of Dot, you sympathise with her and the treatment she receives from her step sister, but there is something about her that you just cannot pin point. Elisha Cuthbert plays a great role and for a young lady so young in the business to play that role is commendable. I felt that the mother should have played a bigger role in the movie. Her role was a bit boring. It is only in the end, she does SOMETHING! I did enjoy the movie, it was suspenseful, had a lot of intrigue and twists to it and it highlighted some issues that teens obviously had in school.
Lorenzo von Matterhorn
Super Reviewer
The Quiet Quotes
There are no approved quotes yet for this movie.