The Rage in Placid Lake
(2004)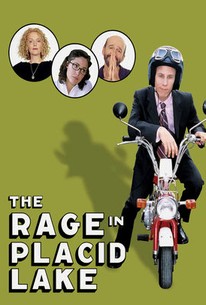 The Rage in Placid Lake Photos
Movie Info
Australian playwright Tony McNamara makes his directorial debut with the offbeat comedy The Rage in Placid Lake, adapted from his own play The Cafe Latte Kid. In his first feature film, indie rocker Benny Lee stars as a troubled teen named Placid Lake. The child of new-agey eccentric parents (Garry McDonald and Miranda Richardson), Placid spends his childhood getting picked on by bullies. Fortunately, he finds friendship with classmate Gemma Taylor (Rose Byrne), whose father (Nicholas Hammond) pressures her to excel in school. After Placid shocks the school with his dark student film, he gets into an accident that lands him in the hospital. Upon his recovery, he reinvents himself as an conservative insurance agent and engages in an affair of sorts with emotionally detached co-worker Jane (Saskia Smith). The Rage in Placid Lake was screened at the 2003 Cannes Film Festival. ~ Andrea LeVasseur, Rovi
Critic Reviews for The Rage in Placid Lake
Audience Reviews for The Rage in Placid Lake
Very witty comedy. Now where did Benny Lee go after his performance here..Lake Placid?
John Ballantine
Super Reviewer
A terrific coming of age story about a kid who really doesn't fit in anywhere. A brilliant look at finding one's place in the world. Placid Lake (Ben Lee) is a goofy, free-spirited, creative kid who tries to make it in the corporate world and to suppress his artistic side. His BFF Gemma (the beautiful Rose Byrne) is a brilliant straight-laced kid destined for great things. Will they embrace who they are (and each other) or will they conform to society's pressures and live lives of quiet desparation? This was laugh out loud funny and heart-breakingly sad and in the end, quite an entertaining film. Natasha Richardson was brilliant as Placid's hippy-dippy, new age, laisse-fare mother, and Claire Danes graced the screen with a brief, one-line appearance. But Lee and Byrnes make the film worth the time to watch it. One finds oneself rooting for them as individuals and as a couple. Great fun!
Mark Abell
Super Reviewer
Somewhat silly movie. After being picked on his whole school existence, Placid Lake decides to starts work in a 9-5 job just to spite his hippie parents. Placid's best friend (Gemma) seems to know him better than Placid does himself. The Aussie accents give away the origin of the movie.
The Rage in Placid Lake Quotes
There are no approved quotes yet for this movie.