The Ragman's Daughter
(1974)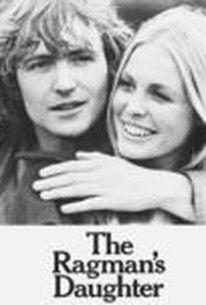 AUDIENCE SCORE
Critic Consensus: No consensus yet.
Movie Info
Director Harold Becker's poignant debut film centers on Tony Bradmore (Simon Rouse), a talented young thief who loses his heart to Doris Randall (Victoria Tennant), the beautiful daughter of a rich rag trader. But her father is far from supportive -- in fact, he's downright derisive -- of Doris's new paramour. Becker won raves for his later works, including The Onion Field and Taps, but this often-overlooked early effort is well worth viewing.
Critic Reviews for The Ragman's Daughter
There are no critic reviews yet for The Ragman's Daughter. Keep checking Rotten Tomatoes for updates!
Audience Reviews for The Ragman's Daughter
½
In "The Ragman's Daughter," police stop Tony(Patrick O'Connell) to see if he has any of the stolen loot from a bank robbery but all he has is some cheese from his job at a dairy. Ironically enough, life was easier for him as a teenager(Simon Rouse) when he did not have a job, even with his father(Brian Murphy) yelling at him. For example, after Tony bumps into Doris(Victoria Tennant) on the street, he gets a date with her. After dinner, they do a little breaking and entering. "The Ragman's Daughter" could have stopped with the image of Victoria Tennant riding a horse through the ghetto and it would have merited a recommendation. Instead, it goes deeper in its tale of romance, including suspense in all the right places. This was made in a time when despite appearances class was still a big part of the equation of daily life in England. It is implied that Doris' father(Leslie Sands) got ahead by cheating his customers while it would take the petty minded Tony a large score to escape his fate of dreary physical labor. As one important confrontation is not staged as well as it should, there is also the issue of the past and present looking almost identical which while probably due to budget constraints might also be a sign of how little things really change in the Midlands.
The Ragman's Daughter Quotes
There are no approved quotes yet for this movie.