The Raid: Redemption
(2012)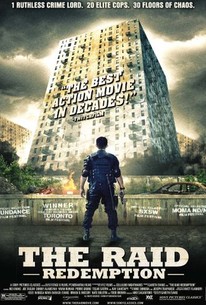 TOMATOMETER
AUDIENCE SCORE
Critic Consensus: No frills and all thrills, The Raid: Redemption is an inventive action film expertly paced and edited for maximum entertainment.
The Raid: Redemption Photos
Movie Info
As a rookie member of an elite special-forces team, Rama (Iko Uwais) is instructed to hang back during a covert mission involving the extraction of a brutal crime lord from a rundown fifteen-story apartment block. But when a spotter blows their cover, boss Tama (Ray Sahetaphy) offers lifelong sanctuary to every every killer, gangster, and thief in the building in exchange fortheir heads. Now Rama must stand in for the team's fallen leader (Joe Taslim) and use every iota of his fighting strength - winding through every floor and every room to complete the mission and escape with his life. -- (C) Sony
News & Interviews for The Raid: Redemption
Critic Reviews for The Raid: Redemption
Audience Reviews for The Raid: Redemption
½
A great action film. Not only does this movie have some of the best martial arts I have seen on screen, it has a story as well. This is rare in action films and I truly believe you can have it both ways. Although the plot is not overly complex, "The Raid" proves me right.
½
What we have here is Indonesia's answer to Thailand's martial arts star Tony Jaa. Leading hero of the film Iko Uwais utilizes the martial art Pencak Silat for some major romper-stomper fight sequences that would give Jaa a good run for his money I'm sure. The plot is pretty much videogame-like and extremely basic. A team of S.W.A.T. go into a high rise block of flats within the slums of Jakarta. Their aim is to take out all criminal targets within and get to the big boss at the top. This film has more of a 'Die Hard' approach than Jaa's films which tend to be more about a lone man fighting hoods. That said the basis is the same as is the look of the film with its dirty, gritty, sweaty atmosphere, its basically an excuse for some kick ass fighting that looks stunning from all angles. Yes I'm mentioning Tony Jaa a lot but if you've seen his films and like his stuff then you know exactly what to expect from this (minus the small amounts of occasional religion). The only real difference is this film is much more brutal with some truly nasty screen wincing knife attacks and of course many bullets to the head. On one hand I did enjoy the film as I do like good fight flicks, this dating back to my JCVD fanboy days. On the other hand the fights are slightly ridiculous as they seem to go on forever. It does actually get a tad dull after you've seen the same two/three guys pounding each other over and over and over and over almost taking turns in getting the upper hand then losing it etc... Speaking of JCVD, these modern day martial arts fight flicks certainly make all the old 80's/90's stars look pretty tame. I look back at Seagal, Norris, Lundgren, Dacascos, Li, Yen, Adkins etc...These Southeast Asian films put them in the shadows big time! Impressive as it is the film is pretty much fight porn which offers nothing new if your really honest about it. The characters are very bland with most being simple nameless cannon fodder while the carnage is maybe a bit too much? I mentioned videogame-like already, well this film is virtually a videogame level of any FPS you can think of. My personal diagnosis...take the pending doom and desperation in 'Aliens' of a small elite team being taken down slowly. Add to that the highly stylised visual flair of 'Leon' with the kick boxing martial arts variations of Southeast Asia. What you get is nothing particularly new now (seeing as Jaa got there first) but it is a mean ass action flick with great production values that has been crafted well.
Phil Hubbs
Super Reviewer
This same year, the remake of "Dredd" came out, and it looked so fresh and its concept was so unique compared to the status quo. Sadly my enthusiasm for that film was eclipsed when I learned it basically stole everything from this, now famous, Indonesian action film. While the villain in this film is a bit underwhelming, the action is brutal and terse throughout. The setting is a giant apartment complex, full of impoverished tenants, tens of hit men, and a small army of police officers. Every action sequence includes intense bouts of kung Fu fighting, gunplay, and gruesome violence. What set this apart from other action films is its use of setting in the action, and the sadness of the characters' impotence in the face of this huge, immovable villain. He really is underwhelming, because the film starts with the raid itself, and gives very little background as to why he must be taken down. Still, watching the fighting by the main officers, and knowing the stakes for them to get out alive, really drove the action forward. A must watch for those who want to see where good action films are going in the next couple of years.
Spencer S.
Super Reviewer
The Raid: Redemption Quotes
| | |
| --- | --- |
| Jaka: | Let's clean this city's mess! |
| | |
| --- | --- |
| Mad Dog: | Pulling the trigger is like ordering takeout...this is what its all about. |
| | |
| --- | --- |
| Mad Dog: | Pulling the trigger is like ordering takeout...this is what its all about. |
| | |
| --- | --- |
| Mad Dog: | This is the thing. This is the pulse, This. Is what I do. |