The Recall
(2017)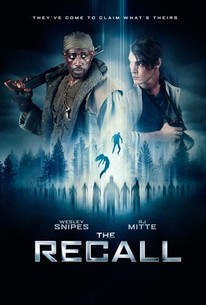 Movie Info
Charlie joins his friends on a weekend trip to a remote cabin on the lake. They turn on the TV and discover hundreds of unnatural cloudlike clusters are hovering over Earth. The friends notice a similar eerie cloud floating high above their cabin. That night a beam of otherworldly light shoots down from the sky. They try to defend themselves, but aliens abduct a number of them and whisk them away to the mother ship. The remaining two of the group, Charlie and Annie must rely on an eccentric and mysterious local hunter who seems to have special knowledge of the attack. He explains this day has been prophesied for years and is part of multiple mass abductions by aliens, who have been guiding mankind's evolution from the very beginning.
Critic Reviews for The Recall
Audience Reviews for The Recall
One decent actor and one genuinely cool sequence in the third act does not balance the mess left by the other 90% of The Recall, but it's something.
The Recall Quotes
There are no approved quotes yet for this movie.