The Red Turtle (La tortue rouge)
(2017)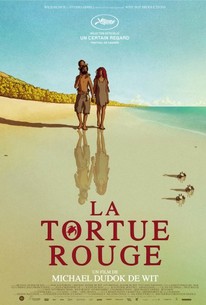 TOMATOMETER
AUDIENCE SCORE
Critic Consensus: The Red Turtle adds to Studio Ghibli's estimable legacy with a beautifully animated effort whose deceptively simple story boasts narrative layers as richly absorbing as its lovely visuals.
The Red Turtle (La tortue rouge) Videos
The Red Turtle (La tortue rouge) Photos
Movie Info
Through the story of a man shipwrecked on a tropical island inhabited by turtles, crabs and birds, The Red Turtle recounts the milestones in the life of a human being.
Critic Reviews for The Red Turtle (La tortue rouge)
Audience Reviews for The Red Turtle (La tortue rouge)
½
A gorgeous animated film that doesn't need words to profoundly move us, making it really hard to keep our eyes dry while watching it. Full review on filmotrope. com
Carlos Magalhães
Super Reviewer
½
The Red Turtle coasts on ambient noise and wildlife sounds. Assisting the atmosphere is the sumptuous score of composer Laurent Perez Del Mar. By itself, the music is lushly atmospheric, but when paired with the gorgeous spectacle it occasionally veers to excess as it overly emphasizes the emotional cues. When a tsunami hits, the music swells. The visual splendor is enough. There's no need to gild the lily. Nevertheless, the exhibition is certainly a delight for aesthetes who prefer mood to plot and a languid pace over action. While The Red Turtle feels like a short expanded to feature length, it's undeniably pleasant and serene. Its simple joys are pure. fastfilmreviews.com
Mark Hobin
Super Reviewer
Every since Hayao Miyazaki left Studio Ghibli and directing in general, it was clear that something was going to be missing from future Ghibli films. That being said, the inspiration is still very much alive in director Michael Dudok de Wit, making 2016's The Red Turtle a very welcome addition to the Ghibli catalogue of great films. It is very hard nowadays to create silent films, but The Red Turtle is completely dialogue-free, making for a very tough market to sell to. Having said that, I don't believe this was made in order to make a profit of millions of dollars. Mixing Cast Away with elements of the Adam and Eve tale, The Red Turtle is a very peaceful and wonderful film to experience. Here is why I believe The Red Turtle is a promise of continuing quality for the studio. The same story can only be told so many times until someone becomes too tired to see another incarnation. The Red Turtle completely turns the "stranded on an island" story on it's head. After crashing his boat due to terrible weather, a man is stranded on an island, where he tries to find ways of escaping, only to realize there is no way off. Coming across a turtle that in turn becomes a woman for him to care for, this film rapidly becomes extremely thought-provoking. All of this happens within the first act, so I will refrain from getting into any spoilers. I found myself endeared and entranced from beginning to end. There may be a few issues I have with it, but I must say that it is very, very well-done. From it's simplistic animation to the way the colours move the story along, there is something very touching about the imagery showcased here. The use of black for the portions taking place at night and the use of vibrant colours throughout the day, the contrast between the two brings a new way of storytelling to the table in my opinion. This film is all about how the visuals tell the story and I think this is one of the most visually stunning animated films in a long time, solely due to the use of colours. I was floored by how many minor elements meant something larger in the end. Normally a film score is all about adding to the imagery surrounding it, bringing the audience in even closer to the story. Music is added to a film to increase the emotional aspect, almost every time. Then there are films like The Red Turtle, where an absent score would have made it dull and boring. It was absolutely crucial to have a very well-composed score, because the film itself had no dialogue to carry it. From pianos to a full-on orchestra, The Red Turtle has wonderful music that is the most commendable aspect about it. Without this score, along with the vibrant visuals, this film wouldn't have worked as well as it did. That being said, these two aspects are so impressive that they warrant a viewing on their own. In the end, I will not find myself remembering The Red Turtle among the best that Studio Ghibli has released, but when the title is mentioned to me, I will think back with fond memories of a small little film that was effective from beginning to end. It's not for everyone, because I can see many people becoming bored very quickly, but it's intentions are pure and the outcome is beautiful. This is just about as simple as you get when it comes to storytelling, but when it works, it works in spades. The Red Turtle is simply gorgeous to look at the the story to back it up is just as engaging. The lack of dialogue may turn people off, due to the standards set by modern-day Hollywood, but in my opinion, every film deserves a chance to be what it wants to be. To those who can have a very open mind when watching a film, I recommend checking out The Red Turtle.
The Red Turtle (La tortue rouge) Quotes
There are no approved quotes yet for this movie.