The Reef
(2010)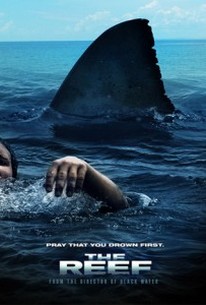 Movie Info
On the beautiful but dangerous waters of Australia's Great Barrier Reef, ship delivery man Luke and four friends chart a yacht to its new owner. Along the way, their ship is torn open by sharp rocks and begins to sink, leaving the passengers with a terrifying choice: stay on board with slim hope of rescue, or swim twelve miles to the nearest island through shark-infested waters. When they enter the water, an unstoppable, relentless Great White immediately follows their trail for a white-knuckle chase that will fill the waters with blood! From the director of the acclaimed monster hit Black Water comes a pulse-pounding, visually stunning thriller that never lets go until the final, heart-stopping scream!
Critic Reviews for The Reef
Audience Reviews for The Reef
½
Lame ass Australian horror flick staring no on you ever heard of, about 4 idiots who wind up stranded in the water after a boating accident. With a shark. It's exactly what you would think it is.
Nicki Marie
Super Reviewer
*** Australians sure do seem to make some good horror movies. "Wolf Creek" and "The Loved Ones" are two of the better horror flicks of the last ten years, and "The Reef" is one of the better shark movies since "Jaws". It's about a group of 5 people who capsize while sailing in the Ocean. They have to make the decision to stay on the boat and wait for help while it sinks. Or try to swim the 10 or so miles to land, knowing there are sharks in the water. Let's just say this is pretty tense, and quite scary if you put yourself in their shoes. It's more about the mental aspects of the movie that will get to you, rather than the sharks(although they are awesome too). Could have used more sharks, but I don't know if it would have been as effective as it was. A movie like "Wolf Creek" has a slow build, then had a few moments that were like "HOLY S***!" This is a lot like that in that sense, well and the Australian accents. Reminded me of "Open Water", but not as slow. Runs around 88 minutes and doesn't really ever get boring. Good runtime for a movie like this. I saw it on Netflix, so since everyone and their dog has Netflix these days, you should check it out. Good for a few scares, but you won't wanna go swimming for a while afterwards.
Everett Johnson
Super Reviewer
Remember Open Water? It's like, but it's not terrible.
Ken Stachnik
Super Reviewer
The Reef Quotes
There are no approved quotes yet for this movie.