The Relic
(1997)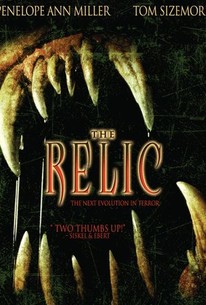 Movie Info
This action-packed horror thriller is filled with plenty of violence, gore, and some genuine chills. A gigantic man-eating mutant creature is lurking underneath the city. When human heads with holes chewed into them begin turning up at a museum, Detective Vincent D'Agosta is assigned to investigate.
News & Interviews for The Relic
Critic Reviews for The Relic
Audience Reviews for The Relic
½
Peter Hyams The Relic is a pulse pounding, horrifying and highly engrossing monster movie that takes the best elements of the genre and sets them in the most unlikely place, Chicago's Natural History Museum. This is a tense, thrilling monster film that delivers a high body count with plenty of blood. The film at times suffers from lack of great dialogue, but in the end, it doesn't matter because the carnage that follows more than makes up for the lack brilliant writing. The Relic is one of those films that is pure mindless fun, and it's sure to appeal to genre fans. Like I've said, there is no effective dialogue, and there is no real great performance. The cast here is presented more as bait to the creature lurking in the darkness of the museum. The effects are well done, and even if they look a bit dated by today's standards, for the time, it's still impressive to see that they were able to pull something like this back in 1997. The Relic is a film that uses a simple plot to create something truly exciting. This is the type of film that doesn't overdo anything, and it's to the point with its horror. That's what it takes to build a highly entertaining horror film, a good, yet simple concept with great atmosphere and tension throughout the film. The Relic more than lives up to that, and it's a horror picture that is dark, menacing and memorable for what it sets out to accomplish. Sure, it does lack in great performances, but this is nonetheless a film that should be seen by genre fans for its intense, well executed monster carnage. The film may be weak in a few areas, but it's a constant good time, and monster film fans will surely enjoy this underrated horror gem.
½
The aboslute, complete, middle of the road, starring that chick you cast when you can't get Renee Russo
Ken Stachnik
Super Reviewer
this is probably the worst movie ive seen in ages, preictable, boring and a stupidly unbelieveable storyline! this movie seriously isnt worth the watch!
Film Crazy
Super Reviewer
The Relic Quotes
There are no approved quotes yet for this movie.