The Reluctant Fundamentalist
(2013)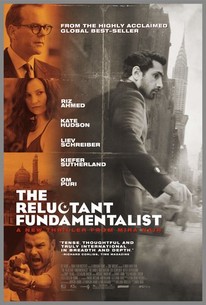 TOMATOMETER
AUDIENCE SCORE
Critic Consensus: The Reluctant Fundamentalist is technically proficient, with solid acting and cinematography, but its message is so ambitious and heavy-handed that some of its power is robbed.
The Reluctant Fundamentalist Photos
Movie Info
We begin in 2011 in Lahore. At an outdoor café a Pakistani man named Changez (Riz Ahmed) tells Bobby (Liev Schreiber), an American journalist, about his experiences in the United States. Roll back ten years, and we find a younger Changez fresh from Princeton, seeking fortune and glory on Wall Street. The American Dream seems well within his grasp, complete with a smart and gorgeous artist girlfriend, Erica (Kate Hudson). But when the Twin Towers are attacked, a cultural divide slowly begins to crack open between Changez and Erica. Changez's dream soon begins to slip into nightmare: profiled, wrongfully arrested, strip-searched and interrogated, he is transformed from a well-educated, upwardly mobile businessman to a scapegoat and perceived enemy. With time, he begins to hear the call of his own homeland. Taking us through the culturally rich and beguiling worlds of New York, Lahore and Istanbul, The Reluctant Fundamentalist is a story about conflicting ideologies where perception and suspicion have the power to determine life or death. (c) IFC Films
News & Interviews for The Reluctant Fundamentalist
Critic Reviews for The Reluctant Fundamentalist
Audience Reviews for The Reluctant Fundamentalist
In "The Reluctant Fundamentalist," Anse Rainier(Gary Richardson), an American university professor, has been kidnapped in Lahore, Pakistan. Bobby Lincoln(Liev Schreiber), a journalist, has a lead in Changez(Riz Ahmed), a professor with supposed ties to local militants. Changez agrees to talk to Bobby but insists at starting at the beginning, like his being recruited out of Princeton University at Underwood Samson, a top investment firm, by Jim Cross(Kiefer Sutherland, perhaps doing penance for playing America's favorite crypto-fascist) in 2000. "The Reluctant Fundamentalist" take great aims to show the world is not that simple, while being very critical of both rampant capitalism and fundamentalism and keenly exploring notions of identity in the post 9/11 world. So much so, that the movie lacks any sense of urgency which is a definite problem concerning its framing device. Look, I could listen to Riz Ahmed and Liev Schreiber shoot the breeze all day, but we really don't need to hear Changez talk so much about him having hot, sweaty sex with his artist girlfriend Erica(Kate Hudson)..........ok, maybe just a little.
A charismatic lead character and good production values, but the story just states the obvious and is rather pointless. I also found the love story sub-plot quite implausible and boring.
Ross Collins
Super Reviewer
½
A little long, and a little slow at times, but I like how this film showed different perspectives, demonstrated how things are not always as they seem, and how paranoia greatly interferes. This is an interesting movie about the inner conflicts of a man who straddles two worlds. On one hand, he has bought into the American dream of wealth, status, luxury. Yet his Pakistani roots with a modest family income, and meaningful work pull in the opposite direction. Add to that the alienation he feels when he is treated terribly by his adopted American society after 9/11. Well crafted, beautifully acted...especially by Riz Ahmed, and Liev Schreiber.
Cynthia S.
Super Reviewer
The Reluctant Fundamentalist Quotes
There are no approved quotes yet for this movie.