The Resident
(2012)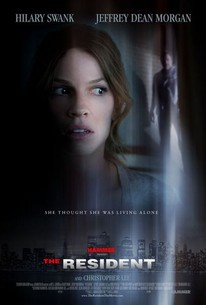 Movie Info
Every year, several million single women in America move into an apartment. They don't know who lived in the apartment before them, they don't know their landlords, and they don't bother to change the locks. This is the story of one such woman. After separating from her adulterous husband, the beautiful Dr. Juliet Devereau moves to Brooklyn, NY, and settles into a new life in a stunning loft apartment that seems too good to be true. Soon mysterious occurrences lead her to suspect she is not alone in her home and quickly her fears become all too real.
Critic Reviews for The Resident
Audience Reviews for The Resident
½
as the reviewers said, boring plot and bad directing nothing more.
Mhd Ekrayem
Super Reviewer
½
She thought she was living alone Not bad When I first heard the original story, I wanted to steal the Idea and make it a movie of my own; but Antii Jokinen got it before me, hence, I looked up for his movie to do a good job. But, unfortunately Jokinen ruined the brilliant thriller behind this movie, but the overall results aren't all bad. The Movie revolves around Dermer (Swank) a ER nurse who finds a great deal for an apartment. However, she is totally unaware that her neighbor Max (Dean) is a complete lunatic. Overall this movie could have been much better, the story is amazing, but the way it was made was very poor. The acting is simple, and needs no commenting on, except for the fact that Jeffery Dean shouldn't play a bad ever it doesn't fit him. Lee appears for 3 minutes. It isnt all bad, but it could have been much better. August: " What's the matter with you? Why don't you stand up for yourself? Just like your father. Your mother, she was beautiful. But she married a weak man. And then she gave birth to another."
Pedro Holanda
Super Reviewer
Juliet: There's something creepy about my apartment. "She Thought She Was Living Alone" The worst thing about The Resident is how incredibly average it is. There's nothing great about it, but there's nothing extremely horrible either. The cast is okay, the movie looks okay; but the story is dull and unoriginal. It's predictable and boring in spots. I really can't believe Hillary Swank did this movie. She isn't bad in it, but it just seems like a complete waste of time. The movie seems to drag for it's hour and a half run time and I never got really pulled into it. The director Antti Jonkinen wants the movie to be suspenseful and creepy. But really it all feels like a lame movie your friend who goes film school would make. He takes his material very seriously and it just never gets started before it ends. I never really felt like the situation was all that scary or thrilling.  The ending seems to go on forever. What the hell are they doing with that ending. It's so dumb and lifeless. It seems like Jonkinen watched Halloween before writing this and decided to have his characters fight it out for an eternity and have his villain keep coming back for more.  Oh, and if you want to watch this just because of Christopher Lee; don't bother. He's onscreen for no more then 5 minutes. 
Melvin White
Super Reviewer
The Resident Quotes
| | |
| --- | --- |
| Dr. Juliet Dermer: | There's something creepy about my apartment. |
| | |
| --- | --- |
| Dr. Juliet Dermer: | Someone called about a rental here? |