The Return
(2004)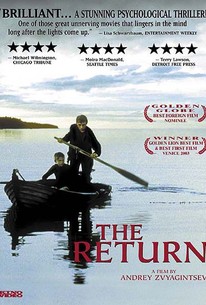 Movie Info
Russian filmmaker Andrei Zvyagintsev makes his feature-film debut with the bleak psychological drama Vozvrashchenie (The Return). Younger brother Ivan (Ivan Dobronravov) and older brother Andrei (Vladimir Garin) live in a small town with their mother (Natalya Vdovina). One summer, the brothers are surprised by the arrival of their long-lost absent father (Konstantin Lavronenko). Although the boys only know him from an old photograph, he still orders them to accompany him on a fishing trip. The stern father then puts his two sons through a series of endurance tests. Doting Andrei is quick to cooperate, while stubborn Ivan is more reluctant to trust him. Ivan wants to know where he's been and what he's up to. After they travel by boat to a deserted island, the father gets even more mysterious. The Return won the Golden Lion at the Venice International Film Festival in 2003.
Critic Reviews for The Return
Audience Reviews for The Return
It has the stunning, bleak and oppressive beauty found in Andrei Tarkovsky's films, with a cold and blueish cinematography that offers no relief from the underlying tension that is basically omnipresent, and it benefits especially from three excellent central performances.
Carlos Magalhães
Super Reviewer
½
This family trip moving in a thrilling manner is quiet captivating for what it is, but then somehow I'd got the notion that the genius was going to end it leaving behind pieces for us to put together..... and that didn't suit my taste. Disappointing for what it gives away, but entertaining for what it maintains: the thrill. Wish the mysterious touch was as satisfying as the thrill. Yet, it's still worth a watch IMO. And I've a feeling that you're less bound to be disappointed by the genius touch that disappointed me. P.S. If you feel that the above comment includes any spoiler, kindly note that it's absolutely unintentional. Find one at your own risk and pleasure.
familiar stranger
Super Reviewer
½
A dark, unsettling look at two boys who struggle to come to grips with their father's (Konstantin Lavronenko) sudden return to their family after a 12 year absence, and how he takes them on a camping trip that turns into a test of each one's masculinity. Although the amount of ambiguity the film contains tends to be a little annoying at the conclusion given the film's unwillingness to give really any answers, director Andrei Zvyagintsev's point is clearly to have you as confused as the boys who are being mentally tortured by their father. Throw in a sudden, shocking twist 3/4 of the way through that is impossible to see coming, some beautiful still photography, and the fact that the actor who plays the older boy (Vladimir Garin) died a day before the film's release due to a similar accident that takes place in the film, it is a very memorable, unmistakably powerful little movie. Not for all tastes to be sure, as this is an art-house film inside and out, but a watchable one.
Dan Schultz
Super Reviewer
The Return Quotes
There are no approved quotes yet for this movie.