The Return of Jafar
(1994)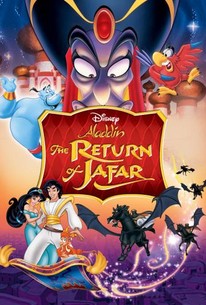 The Return of Jafar Photos
Movie Info
Return of Jafar is a spin-off from the television Aladdin cartoon series, which was a spin-off of the hit Disney animated movie.
Critic Reviews for The Return of Jafar
Audience Reviews for The Return of Jafar
Pointless sequel to a good film, The Return of Jafar just doesn't cut it as a sequel, and is a total mess of a film. I hated this film, thought it was pointless, poorly crafted and it had an uninteresting plot. After a while, you simply lost interest in the film, and just didn't care for the characters. Now, I liked the original, it was no classic, but for what it was it was a fun, animated family film that the entire family could enjoy. Return of Jafar is a snore fest and it's a film that is poorly done. This was one of the first film that started showing the decline of quality animated films released by Disney (in my opinion). The quality ration for this film goes from mediocre to awful, there's never anything on-screen that can salvage this garbage, which is a shame because Disney has a long history of creating memorable, classic family films. Oh well, at least they released more classic films than garbage like this (that is easily forgettable). The Return of Jafar is awful, and if you're a fan of the first, and haven't seen this one, don't. You'll be glad you saved your time. The Return of Jafar is a poorly crafted film that was simply created in order to cash in on the success of the first film. Unfortunately Disney didn't care for the quality of this film because there's nothing good or entertaining going on on-screen. What we do get is a tired, awful, unimpressive film that simply disappoints. This is one awful straight to video sequel worth not seeing!
Bad sequel and it was boring.
Jim Careter
Super Reviewer
A mediocre sequel to a great Disney movie. This movie isn't as bad as some sequels, but it's not that good either.
The Return of Jafar Quotes
There are no approved quotes yet for this movie.