The Rezort
(2015)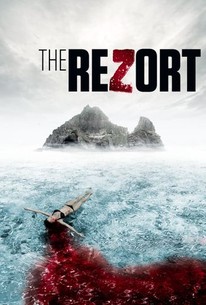 Movie Info
DAY ONE: RELAX. DAY TWO: HUNT. DAY THREE: RUN Following a near-apocalyptic zombie outbreak, humans are once again in control. If an occasional rogue zombie finds its way into everyday life, it is quickly disposed of by the authorities. In this day and age, people know how to handle "Zee's". The latest craze is the Zombie Safari - Zafari - a chance to go out and shoot the un-dead in the wild. The ultimate blood sport experience, and for many the ultimate therapeutic revenge following the losses su!ered during the outbreak. Little do the vacationers realise they're actually in a highly controlled environment, where the zombies are always kept at a safe shooting distance. Nothing is left to chance, nothing is unplanned. So far...
Critic Reviews for The Rezort
Audience Reviews for The Rezort
I realize that coming up with new angles to make a zombie movie must be one of the more difficult things to achieve. You not only have to tell a story that is entertaining in its own right, but it also manages to pull off something that we haven't seen before. Sometimes it doesn't work and you have just one of those things. Either it's an entertaining movie that we've seen before or it's got some clever ideas that push the genre forward, but the end result might end up being a crappy movie. This movie, realistically speaking, does have quite an intriguing concept. The film takes place ten years after an outbreak killed 2 billion people and turned them into, you guessed it, zombies. In the aftermath of this outbreak, this woman created this resort where rich guests pay to go and they get to shoot at restrained zombies. Either that or they're separated by fences that the zombies can't cross over. Our lead character, whose father died in the war against the zombies, goes to this resort in order for it to help her to get some sort of closure. While at the resort, she went with her boyfriend, she realizes that, really, this just gives psychopaths an excuse to kill people without actually killing people. So far so good, at least conceptually speaking. Really, I like the concept, it's a good one. There's potential here to go with something that's relevant and timely, particularly once you start involving the nearby refugee camp. But, by and large, this movie is just pretty much every zombie movie in existence, with the minor difference that it has a good concept that it can't quite back up with a smart script, well-written characters and intense action. And not to mention the fact that the twist in the movie is predictable as all hell. There's a refugee camp near the resort and you can see where this is going. It's definitely a shocking ending to say the least, in terms of what it actually does, but it's just one of those endings that screams of desperation. Like they wanted an emotional gut-punch of an ending, but they telegraphed it so much that it lost all impact. I mean seriously. Again, this was the movie's attempts at being timely and relevant, but it's so poorly implemented that you wonder what the point of it was. Who, in their right mind, would start a refugee center/camp on an island that has zombies roaming about? Yes, there are fences and all that, but it just seems like a recipe for disaster. And, again, not to mention the fact that it's a little too obvious where the movie is gonna go once the refugee camp is mentioned earlier in the film. Subtlety was key here and the movie had no idea how to be subtle. I appreciate the fact that the movie wanted to incorporate something from real life, but they just weren't equipped to handle this very serious topic. It all feels a little bit preachy as well, if I'm being honest. Yes, of course this is wrong, even without taking into account that the people at the resort are killing the refugees camp to create zombies that these people 'murder', but, again, I do believe subtlety is key here. It would be one thing if, at the very least, the horror itself was decent and offered some B-movie thrills, but it doesn't even have that. There's a certain satisfaction in seeing psychopaths who pay to go to this resort get their comeuppance, but that's when shit first hits the fan. After that, there's no real fun to be had. It's just the basic, run away from zombies, kill a few, have a scene where it seems like our heroes are outnumbered by the zombies, rinse and repeat. And not to mention the fact that there are no characters with anything resembling a personality, they're all a bunch of stereotypes. Honestly, the movie isn't bad, but there's a lot of room to explore some interesting themes. You had a chance to explore these people that pay to go hunt exotic animals in Africa, as an example, and how the mind of a person like that works. You could also poke fun at that community and how they like to pretend they're big and tough because they shot an exotic animal with a high-powered rifle from afar. I think that's the angle you go after as opposed to the refugee one, but that was not my decision to make. But, again, I'm meant to review the movie as is, not as I would have liked it to be. The fact that the movie is basic zombie fare isn't really the problem, though it could have been better on that front, it's the fact that it drops the ball with a relatively decent concept. That makes it even more disappointing. Because if this was just a straightforward zombie movie, without the idea of the resort behind it, then this would have just been just another in a long line of zombie flicks. But this is not that, this had the potential and it just didn't live up to it, so it's even worse. With that said, like I said, the movie is just below average at best. Nothing really wrong with it in any way, it's just a little bland. It lacks compelling characters and the zombies don't really have any sort of impact whatsoever. It's a movie that also takes itself way too seriously, so that hurts as well. I can't really recommend this, but it is what it is. I can't stop you, it's your life.
Jesse Ortega
Super Reviewer
The Rezort Quotes
There are no approved quotes yet for this movie.