The Ridiculous 6
(2015)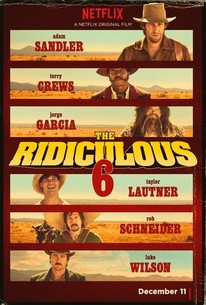 TOMATOMETER
AUDIENCE SCORE
Critic Consensus: Every bit as lazily offensive as its cast and concept would suggest, The Ridiculous Six is standard couch fare for Adam Sandler fanatics and must-avoid viewing for film enthusiasts of every other persuasion.
Movie Info
Six bizarre and diverse strangers in the Wild West discover that they all share the same father, and the newfound brothers embark on a journey to find their dad.
News & Interviews for The Ridiculous 6
Critic Reviews for The Ridiculous 6
Audience Reviews for The Ridiculous 6
Bradley Wright
Super Reviewer
½
Yes that's right, I've seen the fabled new, one time, controversial Adam Sandler movie, all the way through! who wants to touch me? (yes I also realise I just totally dated my own review with this dated gag reference, had to be done). So yeah...its a dumb western filled with blatant stereotypes, corny routines, obvious gags and it treats women as nothing more than sexual objects, but in all honesty what did you expect? Firstly its an Adam Sandler movie, and secondly, it has 'ridiculous' in the bloody title! its literately saying to you, this movie is gonna be daft as shit, you have been warned. So why all the fuss I don't know. Plot wise its your typical western fare about revenge and...umm, more revenge. Tommy Stockburn (Sandler) has been raised by native Americans (or red indians to be politically incorrect) because way back as a child his mother was shot dead by a mysterious stranger. His father Frank (Nick Nolte) was an infamous bank robber and just happens to come by Tommy's village to tell him he's his father because plot convenience. Frank speaks of 50K he's buried away and intends to share with Tommy, but before you can say rootin-tootin outlaws, some outlaws turn up that used to be in a gang with Frank and claim the money. Frank lies about the moneys whereabouts as the gang take him hostage to go find it, this gives Tommy time to find the loot in its real location. Alas Tommy is unable to find the loot so he must come up with another way to raise 50K to pay the outlaws and save his dad. The clock is ticking before the outlaws realise that Frank was lying about the moneys location. Now the main lure here must be the stereotypical ridiculous six characters that are all hilariously related to each other, no really its hilarious...OK its not. Sandler is obviously the leader of the gang, the low gravely Eastwood voiced, ice cool loner, raised by native Americans and is super hot with knives. Terry Crews is Chico, a black piano player who hasn't ever admitted to anyone he's actually, possibly, slightly black, and of course despite the fact he's huge...he's actually a real softie. Jorge Garcia plays Herm, a role that probably would have gone to John Belushi or John Candy if they were alive. A big fat slobby, dirty, feral type bloke who can't speak English but everyone understands him anyway. Taylor Lautner embarrasses himself immensely here as the gangs redneck simpleton complete with braces and buckteeth. Luke Wilson plays the dandy type, good looking, athletic, well dressed, but a miserable failure with his last occupation as a bodyguard for Abe Lincoln. Lastly good old Rob Schneider plays the greasy dirty Mexican Ramon who owns a donkey with super powered diarrhea. So there you have a complete array of stereotypes, the white man raised by indians, the token black guy, the fat slob, the doofus, the dandy and the dirty Mexican. Oh and Nolte, can't understand a bloody word he's saying, not one. Now whilst many might be expecting the biggest load of horse shit this side of the Rio Grande, in all fairness, its not that bad...in places. The gang sets out to pinch 50K from various people and places that they consider to be bad or immoral, so they don't feel bad about stealing basically. As you might expect what you get is pretty predictable stuff with some pretty daft action. They rob a bank utilising Ramon's diarrhea filled donkey as a diversion, yes this means the donkey shits all over someone. They steal a huge gold nugget from a casino owned by Smiley Harris (Harvey Keitel), this involved much silly hijinks from the whole gang such as Chico and his piano playing and Tommy with his knife skills. They also steal a huge sum of cash from Ezekiel Grant (Jon Lovitz), Mark Twain (Vanilla Ice) and General Custer (David Spade) in a poker game which involves the whole gang. Yes I did just mention Vanilla Ice as Mark Twain, yes it was unbelievably insane casting, yes I admit I quite liked it yet I do not know why, yes I am ashamed of myself. Another rather quirky scene involved John Turturro as Abner Doubleday, the man who apparently came up with the all American national past time of rounde...errr baseball. I don't know the history behind this actual person, nor do I know the rules of baseball inside out, however I do have a basic knowledge of the game, not that that's necessary to enjoy this scene though...I digress. Anywho, this scene is actually quite amusing as Turturro literately makes up the rules of baseball as he goes along, but only because he's trying to not lose at his own creation. It sounds childish but the fact that Doubleday is useless at his own sport creation, whilst everyone else is getting the hang of it, was actually reasonably funny, mainly because of Turturro's performance. This movie is pretty much like any throwaway silly comedy I've ever seen through my life, it has its moments, it does make you smile at times, and to that affect...its done its job essentially (much like the gloriously stupid Chris Farley comedy 'Almost Heroes'). The cast is impressive, it looks good, surprisingly authentic at times with some quality classic western-esque shots and angles and the musical score appears to be a complete rip-off from 'City Slickers'. Other than that I dunno, I really don't. The controversy for this movie turned out to be exaggerated, and I truly think people are jumping on the Sandler hate bandwagon way too quickly these days. Yes it was garbage mostly, I fully agree, but was it the worst thing I've ever seen? no, no it wasn't (although Lautner may have killed his career).
Phil Hubbs
Super Reviewer
The worst thing to happen to the American western since John Wayne bit the dust, this distasteful tumbleweed of a film wants so bad to be a comedy but the end result amounts more to a tragedy. Every so often, H'Wood insiders declare the western dead. Following a viewing (a very appropriate term, mind you) of The Ridiculous 6, you will wish that they were right all along. If Clint Eastwood knew that his re-invigorating the genre with Unforgiven would result in this highly childish, hugely racist, and Ridiculous-ly unfunny pile of horsespit, he might've chosen to reboot the Dirty Harry franchise instead. During production, several Native-Americans walked off the set after they found the content of the movie offensive. When a flick boasts such lighting rod put-downs as "Kemo slobby," everybody has a right to walk away in protest. Truthfully, the sophomoric humor puts a lot of races, religions, and minorities into the crosshairs, but the greatest insult gets leveled at the intelligence of viewers. Not only do they show Adam Sandler's raised-by-Natives desperado drinking from a trough alongside his horse, some onlookers actually have to explain to the audience that he is drinking from a trough alongside his horse. So on-the-nose that they qualify for Rhinoplasty, just about all of jokes and bits misfire or, worse, backfire in the face of all involved. In this comedy from Netflix, an outlaw (Sandler) who was raised by Native Americans discovers that he has five half-brothers (Lautner, Terry Crews, Jorge Garcia, Rob Schneider, Luke Wilson), so they band together to find their wayward, deadbeat dad. Sandler goes back to the well doggies yet again, resurrecting old pals Schneider (playing a Mexican that's so much more offensive than Mickey Rooney playing a Japanese man in Breakfast at Tiffany's because it's nearly 55 years later), Steve Buscemi (playing a doctor treating crotch rot), and David Spade (playing General Custer) for lowest brow jokes as well as ethnic humor that just aren't funny unless you're 4 and eat your boogers. Reaching into a small bag of tricks, this band of misfits brings out tired sophomoric shtick that played great when they were in their 30s but feels just plain sad considering that they're all 50-ish. Their legacy? For all of the good that Beasts of No Nation did to establish streaming services as a viable original content film entity, The Ridiculous 6 throws it all away. Bottom line: The Not So Good, the Very Bad, and the Just Plain Ugly
The Ridiculous 6 Quotes
| | |
| --- | --- |
| Lil Pete: | Hey friend, need any help gettin' her out? |
| Ramon: | She's not really stuck amigo, she's a diversion. |
| Lil Pete: | She's a virgin? I'm a virgin, too... unless you count canty-loupes. |
| | |
| --- | --- |
| Ramon: | My mother's Swedish |
| Tommy: | I don't think so. I reckon she's Mexican. |
| Ramon: | Lying bitch. |