The Rig
(2010)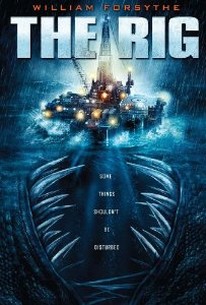 AUDIENCE SCORE
Critic Consensus: No consensus yet.
Movie Info
The roughneck skeleton crew of an off-shore oil rig battles a mysterious beast that's killing them off one at a time as a massive tropical storm makes any hope for escape impossible. When the folks at headquarters notice a big storm blowing in, they evacuate the main crew of the "Charlie" rig, leaving only a few highly skilled workers behind to ensure that production continues uninterrupted. Later, as the storm rolls in, one of the crew members vanishes without a trace. And he's just the first; over the next few hours, the remaining workers realize that something horrible is hunting them from the dark. It's killing for sport, and their only hope for surviving until the rescue crew can make it through the storm is to band together, and fight back with everything they've got.
Critic Reviews for The Rig
There are no critic reviews yet for The Rig. Keep checking Rotten Tomatoes for updates!
Audience Reviews for The Rig
Damn the location could be a great setting for a horror film if done properly. Unfortunately this is very low budget stuff, guy in a suit for the monster! Another missed opportunity. Ghost Rig was slightly better but not by much.
The Rig is a mediocre low-budget monster flick that had so much potential in being a good film. Unfortunately by using every cliché in the book, the filmmakers create a film that is quite forgettable. I'm all for cheesy B movie low-budget monster flicks. However, The Rig is one of those films that just doesn't deliver on its interesting concept. Director Peter Atencio doesn't seem to have a clue to properly create a good monster flick. I mean this idea that he uses for his film has been done before, and making a film with the same old formula can be effective, but not with this film. The film started off well enough, unfortunately, about thirty minutes in, the film started to fall apart, and the film simply didn't deliver on its interesting idea. I thought a monster flick set on an oil rig was a pretty cool idea, but the script had too many flaws. The ideas were good, but the execution was poor. I was pretty disappointed in this film as I thought it could have been such a fun monster flick, unfortunately the film uses tired out overused clichés, mix that with cheap looking special effects. The Rig is a bad film that had so much potential. Maybe if the film had a bigger budget, a reworked script it could have been a good flick. The Rig is a film that I can't recommend, however if you enjoy bad to mediocre B movies, then give it a shot. Other horror fans would do best to skip out on this one.
Utterly ordinary, perhaps less than so, beasty on the loose flick. Very low budget. The main selling point for me, admittedly a doozy, was that Forsythe gets to play a sympathetic role for once.
The Rig Quotes
There are no approved quotes yet for this movie.