The Road
(2009)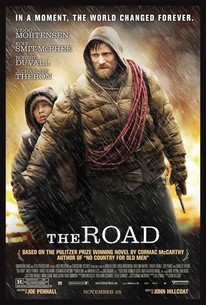 TOMATOMETER
AUDIENCE SCORE
Critic Consensus: The Road's commitment to Cormac McCarthy's dark vision may prove too unyielding for some, but the film benefits from hauntingly powerful performances from Viggo Mortensen and Kodi McPhee.
Movie Info
"The Road" is a post-apocalyptic dramatic thriller about a father and his son walking alone through burned America. Nothing moves in the ravaged landscape save the ash on the wind. It is cold enough to crack stones, and when the snow falls it is gray. The sky is dark. Their destination is the coast, although they don't know what, if anything, awaits them there. They have nothing; just a pistol to defend themselves against the lawless bands that stalk the road, the clothes they are wearing, a cart of scavenged food -- and each other.
News & Interviews for The Road
Critic Reviews for The Road
Audience Reviews for The Road
A father and his son are walking through an post-apocalyptic world that feels like the rainy version of a Fallout game. That's impressively filmed and looks wonderfully bleak in its most gorgeous shots. The film's slow pace is no real problem, the somber atmosphere works in every scene anyway. Mortensen and the great Smit-McPhee easily carry the story, even if they rarely meet other characters. Only the solution is a bit of a let down, not entirely without hope but somewhat anti-climatic. A real downer of a movie, but worth checking out.
I'll always remember the experience I had reading Cormac McCarthy's 2006 novel The Road. It wasn't something I was initially drawn to but the fact that a film adaptation was in the pipeline led me to investigate further. It was a very bleak and emotionally shattering read but it was also morbidly fascinating and nigh-on impossible to put down. When I came to the end I remember wondering how this could be visually translated to the screen considering it delivered so little in terms of descriptive prose. Credit then to Australian director John Hillcoat for delivering a faithful recreation of a very intimate novel. An unspecified apocalypse devastates all animal and plant life on Earth, leaving those remaining in a state of lawlessness and cannibalism. A man (Viggo Mortensen) and his son (Kodi Smit-McPhee) are left to survive, by any means necessary, in the hope that salvation lies ahead somewhere on the road. The sheer power of McCarthy's novel led it quickly to become a beloved piece of literature and anyone willing to attempt an adaptation was always going to have an unenviable task. With this in mind, it seemed fitting that John Hillcoat would follow-up his stark and primitive debut The Proposition with another realistic survival tale. In fairness, the emotional power of book is somewhat diluted but this can so often be the case with page to screen transfers. For the most part, though, Hillcoat manages to capture the essence of the story and his visual representation is practically spot-on for how it was depicted in my mind when reading the book. In achieving this, it be would unfair not to single out the exemplary work of Javier Aguirresarobe and his fittingly, desaturated cinematography as well as keeping the CGI to a minimum which makes the stark images and locations all the more impressive and effective. Make no mistake, The Road is an arduous journey with a palpable sense of doom. As a result, this led to my first impressions of the film not being entirely positive. It felt to me like I was trudging through it, like the characters are wearily trudging through the harsh and barren landscape. However, on a recent reappraisal it strikes me just how powerful a film it is. A bold move (like the book before it) is never to explain the circumstances of the apocalyptic event. It's irrelevant. Instead we're thrust, into a society whose fragility has been exposed to its weakest point with man's inhumanity to man the biggest threat to anyone's survival. At it's core the film is galvanised by two very strong central performances. Sure, there are brief, but welcome, appearances from the great Robert Duvall, the always reliable Charlize Theron and the vastly underrated Guy Pearce but, ultimately, the film rests upon the shoulders of Kodi Smit-McPhee and Viggo Mortensen, who both deliver emotionally harrowing work. Their father/son relationship captures the moments of despair and desperation while complimenting these with a tender and heart-rending vulnerability. With the exception of the Coen brothers' Oscar winning, No Country For Old Men, Cormac McCarthy's prose have proven difficult for some filmmakers but John Hillcoat manages to bring a faithful adaptation to the screen that's, ironically, both bleak and beautiful. Mark Walker
Mark Walker
Super Reviewer
½
Cormac McCarthy's adapted story is suffocatingly dense and devastating, a deeply haunting tale about a man struggling to keep his son alive in a hopeless post-apocalyptic world, and it relies mostly on two strong performances by Viggo Mortensen and Kodi Smit-McPhee.
Carlos Magalhães
Super Reviewer
The Road Quotes
| | |
| --- | --- |
| The Boy: | Are you carrying the fire? |
| The Veteran: | Am I what? |
| The Boy: | Carrying the fire. |
| The Veteran: | You're kind of weirded out, aren't you, kid? |
| The Boy: | Well, are you? |
| The Veteran: | Yeah. I'm carrying the fire. |
| | |
| --- | --- |
| The Boy: | Because we're the good guys. |
| The Man: | Yes. |