The Rover
(2014)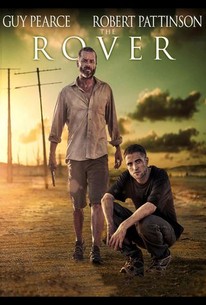 TOMATOMETER
AUDIENCE SCORE
Critic Consensus: Fueled by engaging performances from Guy Pearce and Robert Pattinson, the tension-filled The Rover overcomes its narrative faults through sheer watchability.
Movie Info
THE ROVER, David Michod's highly anticipated follow-up to ANIMAL KINGDOM, is set in a world 10 years following the collapse of society. The rule of the law has disintegrated and life is cheap. The film follows hardened loner Eric (Pearce) as he travels the desolate towns and roads of the outback. When a gang of thieves steals his car they leave behind a wounded Rey (Pattinson) in their wake. Forcing Rey to help track the gang, Eric will go to any lengths to take back the one thing that still matters to him. Michod also wrote the film based on a story he conceived with Joel Edgerton. (c) A24
News & Interviews for The Rover
Critic Reviews for The Rover
Audience Reviews for The Rover
½
Rough and realistic near-post-apocalyptic thriller about a man trying to get his stolen truck back. What follows are a lot of gorgeous shots of the australian outback and a society that has gone to hell. Of course that can't end well for a lot of people. The final twist works but the film is overall too gloomy, slow and unpleasant to be actually enjoyable.
½
"You should never stop thinking about a life you've taken. That's the price you pay for taking it" After the surprise success of his Australian family crime drama Animal Kingdom, David Michôd became a highly anticipated new director overnight. It opened to rave reviews with Quentin Tarantino himself reportedly ranking it his third favourite movie of 2010. The most familiar face onboard was Guy Pearce but it also introduced many cinema goers to the fresh and vibrant talents of Joel Edgerton, Ben Mendelsohn and Jacki Weaver. Now four years later, Michôd's back with a post-apocalyptic road movie working from a story he collaborated on with Edgerton and allows Pearce to add another solid role to his resumé. Ten years after an economic collapse, modern society has been brought to it's knees. Travelling through Australia is Eric (Guy Pearce) a former farmer with a violent past. When his car is stolen by a gang of thieves Eric goes in pursuit and will, seemingly, stop at nothing to get it back. When exploring the Australian outback in a dystopian setting one would be forgiven for thinking of George Miller's Mad Max but as that film had fantastical elements and caricature villains, Michôd's The Rover is an altogether different beast. It's no fantasy and any form of humour only comes in the blackest of dialogue. This is a near-future economic collapse that's so bleak that images of people crucified to telegraph poles is just accepted and dogs are kept in cages just to keep them alive. It's grim stuff and Michôd seems to wallow in it. He's also in no rush to reach his destination; the story is ambiguous, the pacing deliberate and some would even complain that it lacks any form of narrative drive. However, it's nihilism can be strangely captivating and it's so well shot by cinematographer Natasha Braier that's its hard not to find some beauty in it's stark landscapes. Throughout it's periodic lulls, it's held together by it's two excellent central performances. The always reliable Pearce is a snarling menace of a man who has adapted to survive in this environment at the cost of his own soul. And Pattinson. Yes! Twilight pin-up, Robert Pattinson, surprisingly, holds his own. I expected to be critical of him but he delivers revelatory work as a dim-witted tag-along complete with facial tics and nervous energy and I'm sure his work here will silence many of his critics. Where both their performances excel is actually in their eyes. They deliver the requisite empty and dead-eyed stare of men who have been reduced to nothing more than barbarism. That barbarism comes in sudden bursts of mindless violence that jolt you out of your seat and the gun shots, bullet wounds and deaths all have a palpable sense of realism. Despite the marvellous performances, striking appearance and visceral approach, though, the story lacks depth and if it did have a consistency beyond veiled existentialism then I must have missed it. Ultimately, there isn't really a story but it's the ending that will no doubt make or break a viewers experience. Either you'll feel convinced and that it has meaning in exploring the last vestige of hope from a desperate and broken man or you'll feel robbed and that the steak you thought you were savouring for an hour and 45 mins turns out to be just an old piece of leather. It's entirely up to you. Much like the the hair style of Pearce's character, it's patchy. But it's hard to take your eyes away. I can't honestly say why I liked it, I just know I did. Mark Walker
Mark Walker
Super Reviewer
½
Director, David Michod strikes again, first with his masterful Animal Kingdom and now with the thrilling The Rover. Michod creates a searing, dark and filthy atmosphere that broods, compels and accelerates in an elemental way all awhile when it is hot and parched. A vastly impressive piece of filmmaking that is a real work of art that's visionary and mesmerizing. A startling, shocking and brilliantly executed thriller. One of the best films to come from Australia since the original Mad Max. A darkly character drawn and exhilarating movie that will shake you and thrill you. Guy Pearce and Robert Pattinson are terrific. Pearce is a force to be reckoned with. Pattison was almost totally unrecognizable and shows here when given the chance, he can truly be a wonderful actor. It's drama in the most intense form.
The Rover Quotes
| | |
| --- | --- |
| Soldier 1: | I don't know what the fuck you're talking about, mate. |
| | |
| --- | --- |
| Henry: | What have you done to my brother? |
| | |
| --- | --- |
| Rey: | Not everything has to be about something. |
| | |
| --- | --- |
| Eric: | Never stop thinking about a life you've taken. |