The Royal Tenenbaums
(2002)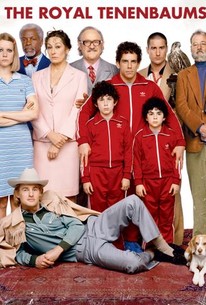 TOMATOMETER
AUDIENCE SCORE
Critic Consensus: The Royal Tenenbaums is a delightful adult comedy with many quirks and a sense of poignancy. Many critics especially praised Hackman's performance.
The Royal Tenenbaums Videos
The Royal Tenenbaums Photos
Movie Info
Royal Tenenbaum and his wife Etheline had three children--Chas, Richie, and Margot--they were a family of geniuses and then they separated. Chas started buying real estate in his early teens and seemed to have had a preternatural understanding of international finance. Margot was a playwright and received a Braverman grant of fifty thousand dollars in the ninth grade. Richie was a junior champion tennis player and won the U.S. Nationals three years in a row. Virtually all memory of the brilliance of the young Tenenbaums was subsequently erased by two decades of betrayal, failure and disaster. Most of this was generally considered to be their father's fault. The tale follows the family's sudden and unexpected reunion one recent winter.
Critic Reviews for The Royal Tenenbaums
Audience Reviews for The Royal Tenenbaums
½
An appealing melancholy comedy with eccentric characters who are so very well developed, in a strange, unconventional narrative that invests in an offbeat atmosphere (as if out of a dreamlike version of New York) to tackle matters like loneliness and amends.
Carlos Magalhães
Super Reviewer
½
An interesting, offbeat film from Wes Anderson about a family of child prodigies (Ben Stiller, Gwyneth Paltrow, Luke Wilson) who grow up in a dysfunctional household, headed by their father Royal (Gene Hackman), and how the family comes back together under the same roof after many years after their father announces he has a terminal illness, after leaving the family a long time ago. Sometimes, Wes Anderson's style of film-making is infuriating. His characters can sometimes come across as robots spouting dialogue (like in "Moonrise Kingdom") or just flat out unbelievable and quirky for the sake of being quirky ("The Life Aquatic With Steve Zissou"). Here, he hits just the right balance of humor to offset the darker, sadder tones this story has. It is never laugh out loud hilarious, none of his movies are, but the sadness and heartbreak coursing through this family is definitely not expected, and in turn makes it quite touching. Hackman is phenomenal, as he always is, and the supporting cast is excellent as well. It almost veers off a cliff at its finale, but it still ends on a good note that ultimately makes it a worthwhile viewing.
Dan Schultz
Super Reviewer
Wes Anderson is an eccentric director who always manages to make in inventive, charming and memorable picture. With the Royal Tenenbaums, he crafts one of his finest films and he directs a great cast of talented actors who each bring something that make this such a memorable film. Wes Anderson has a distinctive directing style, one that is absolutely unique and engaging. I've seen quite a few of his films, and The Royal Tenenbaums is one of his best, and it boasts some great performances matched with an engaging storyline. Anderson fans will surely enjoy this, and like I've, it's one of his best movies and he displays his skills perfectly here. With this film, Wes Anderson seems to be even more confident behind the camera, and therefore he tells a more thought out and memorable storyline. Anderson is a great filmmaker, and he deserves more praise than what he gets, and film lovers should appreciate his work for what it is. What I mean by that is that many people won't even take a glance at his work, and easily dismiss it because of the somewhat eccentric way he makes his movies. I think it's a great shame because his films are very original, and each one becomes even more thought out than the previous one. The Royal Tenenbaums is a fine drama comedy that showcases the talents of a unique and original filmmaker perfectly. With Wes Anderson, you never know what type of film you'll get, but there will always be his signature style of having whimsical characters stuck in bizarre situations with each movie. That's what makes work worth seeing, and if you're not familiar with his work, this is a perfect place to start, along with Moonrise Kingdom. This is a stellar film, one that is well acted and directed and is highly engaging from start to finish.
The Royal Tenenbaums Quotes
| | |
| --- | --- |
| Royal Tenenbaum: | Anybody interested in grabbing a couple of burgers and hittin' the cemetery? |
| | |
| --- | --- |
| Richie Tenenbaum: | Did you just say you're on mescaline? |
| Eli Cash: | I did indeed. Very much so. |
| | |
| --- | --- |
| Eli Cash: | The crickets and the rust-beetles scuttled among the nettles of the sage thicket. "Vámonos, amigos," he whispered, and threw the busted leather flintcraw over the loose weave of the saddlecock. And they rode on in the friscalating dusklight. |
| | |
| --- | --- |
| Royal Tenenbaum: | You know, Richie, this illness, this closeness to death... it's had a profound affect on me. I feel like a different person, I really do. |
| Richie Tenenbaum: | Dad, you were never dying. |
| Royal Tenenbaum: | But I'm going to live. |