The Rules of the Game (La règle du jeu)
(1939)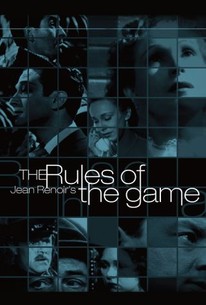 TOMATOMETER
AUDIENCE SCORE
Critic Consensus: Its genius escaped many viewers at the time, but in retrospect, The Rules of the Game stands as one of Jean Renoir's -- and cinema's -- finest works.
The Rules of the Game (La règle du jeu) Photos
Movie Info
Now often cited as one of the greatest films ever made, Jean Renoir's La Règle du jeu/Rules of the Game was not warmly received on its original release in 1939: audiences at its opening engagements in Paris were openly hostile, responding to the film with shouts of derision, and distributors cut the movie from 113 minutes to a mere 80. It was banned as morally perilous during the German occupation and the original negative was destroyed during WWII. It wasn't until 1956 that Renoir was able to restore the film to its original length. In retrospect, this reaction seems both puzzling and understandable; at its heart, Rules of the Game is a very moral film about frequently amoral people. A comedy of manners whose wit only occasionally betrays its more serious intentions, it contrasts the romantic entanglements of rich and poor during a weekend at a country estate. André Jurieu (Roland Toutain), a French aviation hero, has fallen in love with Christine de la Chesnaye (Nora Gregor), who is married to wealthy aristocrat Marquis Robert de la Chesnaye (Marcel Dalio). Robert, however, has a mistress of his own, whom he invites to a weekend hunting party at his country home, along with André and his friend Octave (played by Jean Renoir himself). Meanwhile, the hired help have their own game of musical beds going on: a poacher is hired to work as a servant at the estate and immediately makes plans to seduce the gamekeeper's wife, while the gamekeeper recognizes him only as the man who's been trying to steal his rabbits. Among the upper classes, infidelity is not merely accepted but expected; codes are breached not by being unfaithful, but by lacking the courtesy to lie about it in public. The weekend ends in a tragedy that suggests that this way of life may soon be coming to an end. Renoir's witty, acidic screenplay makes none of the characters heroes or villains, and his graceful handling of his cast is well served by his visual style. He tells his story with long, uninterrupted takes using deep focus (cinematographer Jean Bachelet proves a worthy collaborator here), following the action with a subtle rhythm that never calls attention to itself. The sharply-cut hunting sequence makes clear that Renoir avoided more complex editing schemes by choice, believing that long takes created a more lifelike rhythm and reduced the manipulations of over-editing. Rules of the Game uses WWI as an allegory for WWII, and its representation of a vanishing way of life soon became all too true for Renoir himself, who, within a year of the film's release, was forced to leave Europe for the United States.. ~ Mark Deming, Rovi
News & Interviews for The Rules of the Game (La règle du jeu)
Critic Reviews for The Rules of the Game (La règle du jeu)
Audience Reviews for The Rules of the Game (La règle du jeu)
½
Concealing a lot of complexity in its apparently simple plot, this fabulous tragicomedy (which almost got lost in History) is a witty and clever commentary on the rules of bourgeoisie and social relations - a classic of French Cinema to be seen and re-seen many times.
Carlos Magalhães
Super Reviewer
"The awful thing about life is this, Everyone has their reasons"
Fantastic film. I hate the rich and this is a great fuck you to them. I love the style that the film was shot in as well, with wides as if watching a play unfold. There is also the rabbit hunt which is done extremely well. Well crafted film on a lot of levels. I was also impressed with the dialogue which was funny and sharp, especially considering the time it was made.
The Rules of the Game (La règle du jeu) Quotes
There are no approved quotes yet for this movie.