The Rum Diary
(2011)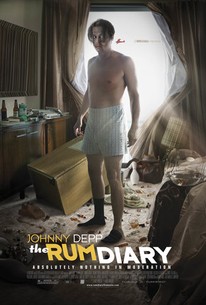 TOMATOMETER
AUDIENCE SCORE
Critic Consensus: It's colorful and amiable enough, and Depp's heart is clearly in the right place, but The Rum Diary fails to add sufficient focus to its rambling source material.
Movie Info
Based on the debut novel by Hunter S. Thompson. Tiring of the noise and madness of New York and the crushing conventions of late Eisenhower-era America, Paul Kemp (Johnny Depp) travels to the pristine island of Puerto Rico to write for a local newspaper, run by downtrodden editor Lotterman (Richard Jenkins). Adopting the rum-soaked life of the island, Paul soon becomes obsessed with Chenault (Amber Heard), the wildly attractive Connecticut-born fiancée of Sanderson (Aaron Eckhart). Sanderson is one of a growing number of American entrepreneurs who are determined to convert Puerto Rico into a capitalist paradise in service of the wealthy. When Kemp is recruited by Sanderson to write favorably about his latest unsavory scheme, the journalist is presented with a choice: to use his words for the corrupt businessmen's financial benefit, or use them to take the bastards down. -- (C) FilmDistrict
News & Interviews for The Rum Diary
Critic Reviews for The Rum Diary
Audience Reviews for The Rum Diary
½
A rambling and unengaging film that seems like a comedy that Graham Greene could have written if he had lost his talent or wit for smart social satires. Clearly in need of some editing, the story is overlong and unfocused, even if it has some few inspired funny moments.
Carlos Magalhães
Super Reviewer
½
Paul Kemp: Why did she have to happen? Just when I was doing so good without her.  "One part outrage. One part justice. Three parts rum. Mix well." One thing you have to know before going into any Hunter S. Thompson adaption is that he is very polarizing, as are his books, and as are the films based on his books. Very seldom do you hear somebody say, "Oh yeah, Hunter Thompson is alright." No. You hear them say either, "I love Thompson" or "I hate Thompson." As for me, I love him. I've read many of his books, including The Rum Diary and have seen all the adaptions. This one falls between Where the Buffalo Roam and Fear and Loathing in Las Vegas, in my opinion. It's slightly better then Where the Buffalo Roam, but not quite as good as Fear and Loathing. Our character in this one is Paul Kemp. He is a writer who moves down to Puerto Rico to take a job on a newspaper that is tanking big time. Paul is what you call an alcoholic. He drinks, drinks, and drinks some more. He happens to meet a girl that is taken by a very powerful man in Puerto Rico, who wants to use Paul to help him make some big money. If you know Thompson, you know that his stories aren't very plot oriented, nor are they extremely character driven. There more... substance driven, then anything else. The best thing about The Rum Diary is the cast. Johnny Depp plays Kemp in a return to Thompson role. Then there's a supporting cast of Aaron Rckhart, Michael Rispoli, Giovanni Ribsi, and the extremely beautiful Amber Heard. Their all pretty good. I especially liked Ribsi in a very bizarre, drunken role. His character is really "out there" and he plays "out there" very well. As does Johnny Depp. The Rum Diary isn't a perfect movie, not even close. Adaptions of Thompson books aren't easy to make. The material doesn't make for a straightforward story on screen. The great thing about his works are how chaotic they are. There's nothing sensical going on in them; read and watch Fear and Loathing in Las Vegas for a perfect example of how chaotic his works can be. If you're a fan of Thompson, I think you should be able to get a good amount of enjoyment from this adaption of his debut novel. This isn't a great film, but it is a good deal of fun.
Melvin White
Super Reviewer
½
Directed (and written) by Bruce Robinson, GK Films, 2011. Starring Johnny Depp, Giovanni Ribisi, Richard Jenkins, Amber Heard, Michael Rispoli and Aaron Eckhart. Genre: Drama, Mystery, Thriller Question: What would your reaction be if you were hired to work for a failing newspaper, the editor doesn't care for the writers at all, you have a bit of alcohol problem and you can't find your writer's "voice"? Well, you actually have more problems than that but I won't give the whole movie away. However, I just saw The Rum Diary - a movie based on the book by Hunter S. Thompson and that's what's this movie is about, mostly. If I were in a situation like that, my reaction, if you must know, would look like this: I would write about what I love (movies), really hope Karma works because payback's a bitch, have a few glasses of red wine or maybe I should try a gin and tonic, realize most days are like Fridays (best day of the week) because I had my "voice" all along. I would also befriend the staff at the newspaper because that's what creative minds do..find a support system that actually understands you. But this movie isn't about me now, is it? I must say right off the bat - that the preview I saw for The Rum Diary was bit misleading. It portrayed the film as a comedy or a really offbeat story. Now, don't get me wrong, there were parts where I smiled and even giggled but I would call this a drama. Also, I am unclear why it was also listed as a mystery & thriller by IMDb. I didn't find it to be either. The Rum Diary is about a man, Paul Kemp played by Johnny Depp, who moves to San Juan to write for a newspaper. He is an unpublished novelist who doesn't have faith in himself as a writer and he's a bit of a lost man. However, when he gets down to Puerto Rico he gets sidetracked when he becomes in involved with some unscrupulous people. Paul Kemp has a bit (understatement) of a drinking problem but apparently everyone on the island likes to drink rum. That's it - no more detail about the story. I started off liking the film, it was quick, funny and I enjoyed meeting all the characters. However, the movie slowed down a bit towards the middle - to almost a standstill and I got a little bored. In fact, I almost stopped caring about the characters including the lead. I am not sure the vision of the book translated well to the screen but since I didn't read the book I can't be certain. Plus, something was off with the editing of The Rum Diary. It seemed like scenes were either cut short, cut out completely or some just added in to show off the dialogue. (I'll get the dialogue in a minute.) There was one thing that I loved throughout this film: the dialogue. It was brilliant. I want to leave some quotes here but there were so many I could share that I don't think I could pick just one. Hunter S. Thompson was a stellar writer with his own unique vision of how to describe things. For that alone I would recommend the movie. Plus, Johnny Depp delivered the lines beautifully and in such a subtle way. I really want to see it again just for dialogue. There is some narration in the beginning and then it picked up again at the end. Not sure why there wasn't much in the middle. I believe it would have helped when the story stagnated. Anyway, if you are writer and if you have ever struggled with it - and you know we all have - this story might just inspire you. My favorite thing: So many great quotes. Wish I could manipulate words that brilliantly. My least favorite thing: I got a little bored. Rating: R Length: 120 minutes Review: 5 out of 10
Tired of Previews
Super Reviewer
The Rum Diary Quotes
| | |
| --- | --- |
| Moburg: | If the Bible´s God´s book, why didn´t he give it to everyone? |
| | |
| --- | --- |
| Lotterman: | Did you see the side of his nose? Blackheads like braille. |
| | |
| --- | --- |
| Paul Kemp: | Human beings are the only creatures on Earth that claim a God, and the only living things that behave like they haven't got one. |
| | |
| --- | --- |
| Paul Kemp: | "Nowadays, people know the price of everything, and the value of nothing." |
| Paul Kemp: | Nowadays, people know the price of everything, and the value of nothing. |