The Safety of Objects
(2001)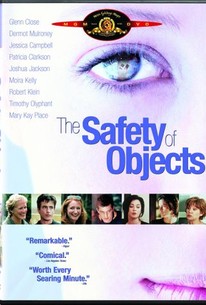 The Safety of Objects Photos
Movie Info
Following up on her 1998 opus Bedrooms and Hallways, Rose Troche directs this ensemble film about suburbia and its discontents. Once an up-and-coming singer/songwriter, Paul Gold (Joshua Jackson) now lies in a coma, attentively nursed by his mother Esther (Glenn Close), who dotes on her son to the exclusion of her husband and her daughter Julie (Jessica Campbell). Meanwhile, Jim Train (Dermot Mulroney) is a workaholic lawyer who is closer to his tortes than to his spouse Susan (Moira Kelly). Their son Jake has taken a morbid fascination with his sister's foot-high girl doll. At the same time, Paul's former lover Annette Jennings (Patricia Clarkson) is trying to pull her life and her family back together after a particularly brutal divorce. This film was screened at the 2001 Toronto Film Festival.
Critic Reviews for The Safety of Objects
Audience Reviews for The Safety of Objects
Saw this sometime ago and really enjoyed it, so was glad to see it going really cheap on Amazon. The rewatch was just as good. Great cast including a very young Kristen Stewart. I liked how the stories about the three sets of neighbours all wound together. Though it is a drama, there is some black humor there as well. The Barbie doll in particular made me laugh. Very realistic with that hair - kind of creepy actually!
Nicki Marie
Super Reviewer
What an odd movie.. I liked it and I really don't know why.. these neighbors are as screwed up as the next.. they are like one big disfunctioal family living in different house's on one street.. but yet this film is very sad too.. theres just so much going on.. its just something you need to watch for yourself to understand.. I loved it.
♥˩ƳИИ ƜѲѲƉƧ♥
Super Reviewer
½
Odd, yet very likeable film.
Leigh Ryan
Super Reviewer
The Safety of Objects Quotes
| | |
| --- | --- |
| Esther Gold: | [thinking] How did I get here? Somewhere along the way, things have gotten out of hand. I don't know how. I tried to do things right, but...maybe that's the problem. Maybe there is no right or wrong. Weâ??re ruled by chaos. That would make more sense. That there are no rewards, no punishments. Life isn't a series of results of things done right or wrong. Itâ??s all just random. Those are the rules. There are no rules. |
| Esther Gold: | [thinking] How did I get here? Somewhere along the way, things have gotten out of hand. I don't know how. I tried to do things right, but...maybe that's the problem. Maybe there is no right or wrong. We're ruled by chaos. That would make more sense. That there are no rewards, no punishments. Life isn't a series of results of things done right or wrong. It's all just random. Those are the rules. There are no rules. |
| | |
| --- | --- |
| Randy: | When you start collecting things, you start thinking you care about stuff. And when they're gone; when they break or someone steals them, you feel like a part of you is gone, too. When you have things and suddenly you don't, it feels like you disappeared. Nothing should make you feel that way... Except when you lose a person |
| Randy: | When you start collecting things, you start thinking you care about stuff. And when they're gone; when they break or someone steals them, you feel like a part of you is gone, too. When you have things and suddenly you don't, it feels like you disappeared. Nothing should make you feel that way... Except when you lose a person. |
| | |
| --- | --- |
| Esther Gold: | If you are ever in a praying situation with Him: Be Specific! Include certain clauses. It's not enough to assume that if a person lives they'll be okay... Cause God has a wicked sense of humor. And even though he knows you mean more, he'll only give you exactly what you ask for. |
| | |
| --- | --- |
| Sam Jennings: | [to Randy] You know, uhm... When my mom and dad were first getting divorced, I would always pretend not to hear my dad call up to me to say good-bye. 'Cause I always thought he'd stay longer. If... he couldn't actually say it to me, you know? Maybe it's like that for you. Bye. |