The Samaritan
(2012)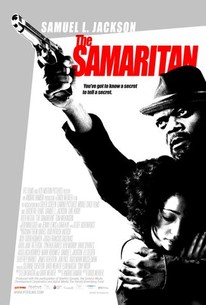 Movie Info
After twenty‐five years in prison, Foley (Samuel L. Jackson) is finished with the grifter's life. When he meets an elusive young woman named Iris (Ruth Negga), the possibility of a new start looks real. But his past is proving to be a stubborn companion: Ethan (Luke Kirby), the son of his former partner, has an ingenious plan and he wants Foley in. The harder Foley tries to escape his past, the tighter he is ensnared in Ethan's web of secrets, until it becomes all too clear to Foley that some wrongs can never be made right. -- (C) IFC
News & Interviews for The Samaritan
Critic Reviews for The Samaritan
Audience Reviews for The Samaritan
½
The Samaritan is a film that had the potential of being a truly memorable thriller. Unfortunately, the film never really takes off, and ends up falling flat. I found that this film was pretty bad and it didn't do anything to grab my attention. I tried to get into the story, but it was just a poorly thought out plot with hints of good ideas hidden under disjointed writing, which I think is too bad because the film does have a few good actors here. I really wanted to enjoy the film, and by what the trailer suggested, this would be a standout picture. However, it isn't and it fails on so many levels. The film's biggest flaw is that it just doesn't grab your attention; it's too long and boring. I do enjoy films that take its time to unfold, but this one really took its time, and while trying to build up the tension, the film had bland characters were simply not interesting aside from the characters that Samuel L. Jackson and Tom Wilkinson. Don't expect anything good here, as there is nothing here of note, except for a tedious thriller that never pays off. You'll be left wanting more by the time the credits start to roll, and you'll ask yourself why you spent the time watching this train wreck. Jackson is a great actor, but here he simply has poor material to work with, and it's a shame, because like I said, if the film would have been reworked, then this would be a truly engrossing thriller that would have definitely have stood out. Unfortunately it never realizes its potential, and it ends up being a mess and ultimately it's a film not worth your time.
½
The Samaritan has to be one of the worse films SLJ has starred in. The script, acting, directing, and even the little bit of action was all bad. Then the big reveal of who Foley and Iris are to each other after everything they did made me absolutely sick. I was completely disturbed that Iris knew and continued to do the things she did with him. It's a film I will for sure avoid in the future.
♥˩ƳИИ ƜѲѲƉƧ♥
Super Reviewer
½
A gritty and crisp serving of a thriller that`s twisty, enthralling and very entertaining. It delivers up some solid suspense and great performances from its cast. It stays true to the tradition of the old-school drifter films of the day and serves it up again like its fresh and new. A slick, brutal and sharp piece of film noir. Director, David Weaver crafts an exceptional and hard-boiled film. Samuel L. Jackson delivers a compelling and rock solid performance, it turns to be one of his best film roles in years. It truly separates him from what we have been used to seeing him in the last few years and gladly welcome him back to genre films once again. Tom Wilkonson is terrific. Luke Kirby and Ruth Negga are excellent, A real slice of Pulp Fiction that echos with Oldboy.
The Samaritan Quotes
| | |
| --- | --- |
| Foley: | I had a partner once....I killed him. |
| | |
| --- | --- |
| Iris: | I can't remember the last time I did something I was proud of. |
| | |
| --- | --- |
| Foley: | If you keep on doing what you`ve always done ,you'll keep on being what you've always been, nothing changes unless you make it change, I know what it sounds like but every morning that I wake up I think about what that really means .Nothing Changes Unless You Make It Change. |