The Sandlot: Heading Home
(2007)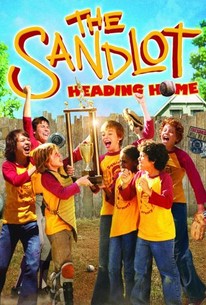 AUDIENCE SCORE
Critic Consensus: No consensus yet.
The Sandlot: Heading Home Photos
Movie Info
A self-absorbed slugger whose egotistical attitude threatens to bring the whole team down gets a second chance at learning the value of teamwork in the third installment of the kid-friendly Sandlot series. Tommy Santorelli (Luke Perry) is a Major League Baseball star whose impressive stats have gone to his head. One day, while stepping up to the plate for another home run hit, Tommy is beamed by a speeding fastball that knocks him clean unconscious. Awakening to discover that he has been mysteriously transported back to the scrappy sandlot where he first discovered his love of the game, 12-year-old Tommy is forced to work with his fellow players to save their favorite diamond from unscrupulous real-estate developer Earl Needman (Paul Jarrett). If Tommy's ragtag team can beat Needman's formidable group of miniature super-athletes, the sandlot will be theirs fair and square; if Tommy and company lose the game, however, they can kiss their favorite place to run the bases goodbye forever. When Tommy is offered the opportunity to pursue his own interests by joining Needman's team and getting a shot at the big leagues, he struggles to choose between personal advancement and the best interests of the team.
Critic Reviews for The Sandlot: Heading Home
All Critics (3) | Fresh (1) | Rotten (2)
While not as awful as most of these types of sequels, it offers nothing that comes close enough to matching the joy and wonder of the first film.
Audience Reviews for The Sandlot: Heading Home
Staying away from the big screen, "The Sandlot 3: Heading Home" is surprisingly far superior to it's predecessor, coming up with a new premise, although predictable. It gains a better scribe for it's script, and because of that, it's story is more heartfelt and charming. The acting of the kids is silly and the rival team made me unintentionally laugh multiple times. Having true-to-life emotions throughout the film, while having a little, dare I say, time travel premise, the third instalment is what I wanted the second film to be. Usually I wouldn't recommend a direct-to-dvd sequel, but this one hits home. It is not bad at all.
Bradley Wright
Super Reviewer
Jim Careter
Super Reviewer
The Sandlot: Heading Home Quotes
There are no approved quotes yet for this movie.