The Saragossa Manuscript
(1965)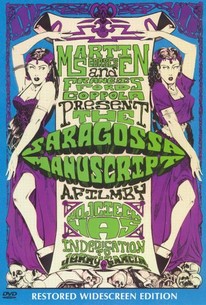 Movie Info
Alfons (Zbigniew Cybulski) is a young army captain who meets two women of Moorish ancestry at what appears to be a deserted inn near Madrid. They tell Alfons he is the descendant of a noble family and that he must undergo a series of challenging missions to prove himself. A magician tries to take his soul, and he is visited by ghosts near the mountains of Madrid. Author Jan Poticki committed suicide a year after the symbolic and allusive book this movie was based on was published.
Critic Reviews for The Saragossa Manuscript
Audience Reviews for The Saragossa Manuscript
Great movie. Kinda sucky American DVD though. The aspect ratio looks wrong and no extras to speak of. This film has so much going on it practically cries out for a scholarly commentary.
Bob Stinson
Super Reviewer
½
Polish black and white film about Alfonso van Worden, captain in the Walloon Guard. What happens to him, and then what happens to other people, and then stories that turn into other stories ..... a bit like the Thousand and One Arabian Nights, except it only took me four consecutive evenings to get all the way through it - partly the 3 hour viewing time, partly the multiple plots requiring concentration, and mostly because I'm rubbish at remembering names and faces. Which is not to say its dull, it isn't, more to say my brain hurts easily. According to Wikipedia, Martin Scorsese, Francis Ford Coppola, Luis Buñuel, David Lynch, Lars von Trier, Harvey Keitel and Jerry Garcia have at various times described The Saragossa Manuscript as their favorite film. Bet their brans didn't hurt.
½
a stupendous surrealist mindfuck of a movie based on what can only be a fantastic book by a complete madman...takes place in spain but filmed in polish and from there it only gets weirder. the intricate story structure folds back on itself multiple times, with characters including gypsies, bandits, moorish princesses and a kabbalist. i probably need to watch it again to get them all straight but i'm a sucker for films that begin with a magical book :) btw this film was made in 1965, not 1999!
Stella Dallas
Super Reviewer
The Saragossa Manuscript Quotes
There are no approved quotes yet for this movie.